It Ain't Swede – American Food Ain't Swede: It's Weird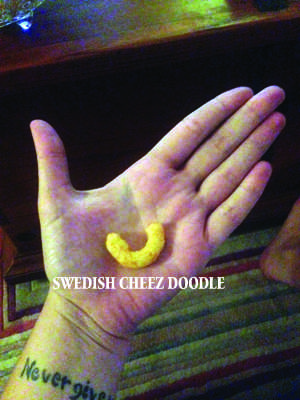 Everyone's heard the rumors about the United States: that the food is destroying the health of the population and its six-pack abs.
The Cheesecake Factory was one of the first restaurants I tried when I came to Los Angeles. After looking at the menu for a while, I decided to try the fried macaroni and cheese as a starter, in hopes of having room for cheesecake later.
The complimentary bread got me through as I waited. I can't complain about that because it comes out hot and fresh, with spreadable butter to tempt us some more.
When our order arrived, we were shocked at its size. The portion consisted of four breaded and fried mac and cheese balls of which I could only eat two before feeling stuffed. In Sweden, when you order a "starter" you expect a small appetizer to enjoy before the main course.
Needless to say, I never got to try the cheesecake. But we still dine there often because the food is delicious, regardless of the portions.
One time we ordered chicken and biscuits. The idea of serving the biscuit under the food was interesting to me. Why would someone want their biscuit buried under the gravy? Now I know to ask for the biscuit on the side, to prevent a soggy mess.
Another question: Is it normal for one person to drink a 44-ounce beverage at the movies? Or anywhere for that matter? I have trouble finishing a large drink from McDonald's, but I've seen people go back for refills.
The most American drink I can think of is root beer. When I was at The Wizarding World of Harry Potter at Universal Studios Hollywood I bought myself a cup of butterbeer, offered in frozen and regular form. It was like root beer in disguise. The first few sips were OK, but when the foam was gone, so was my ability to drink it.
I keep giving in to this American diet where everything is noticeably bigger compared to what I'm used to back home. I bought a bag of Cheetos puffs and each one was like a Swedish Cheez Doodle on steroids.
Speaking of which, I think I've found every single flavor of chips in this country. Everything from white chocolate Pringles to Lays that range from chicken and waffles to capuccino.
Cookies come in all shapes, sizes, and of course… flavors too! Every other week Oreo launches a new filling for their classic cookies, constantly switching it up with the seasons. I've come across pumpkin spice, filled cupcake, mint, red velvet, candy corn and another hundred more.
Pop-tarts are something I've tried before in Sweden and it's a decent snack, but I can't understand how people have it for breakfast— isn't that too sweet?
I've seen a lot of weird food in the states. I once saw fried Snickers. Really? Fried? Wasn't the chocolate bar enough?
Jell-O is an American staple that I didn't try until recently. I can't really describe what it tastes like, it's not good, but it's not gross either. Again— weird.
The one thing everyone loves to hate is cheese in a can, so that needs to be on the list too. I haven't tried it yet ( nor do I want to ) so I can't say anything much about it, other than it's weird.
Last year I was at a Thanksgiving dinner in Pasadena.  We got to try the typical holiday meal: turkey with stuffing, mashed potatoes and gravy, cranberry sauce and an assortment of pies. I'll tell you this: stuffing and cranberries aren't for me, ever.
When I miss Swedish cuisine, there's literally one place I can go to — IKEA. While the IKEA restaurant offers a variety of menu items, one bite of the Swedish meatballs with mashed potatoes, cream sauce and a side of lingonberries and I feel like I'm back in Sweden again.
There's a big difference when you talk about traditional food between Sweden and the U.S. Americans relate Swedish food to meatballs, Kalles Kaviar (caviar in a tube) and chocolate.
But when a Swede thinks about American food, it's usually hot dogs, hamburgers, pizza and anything greasy.
I guess I will keep eating my Swedish meatballs when I'm homesick and trying American food when I dare to because some of the food here is not food.
It's just weird.