Burgers Come As Burgers Go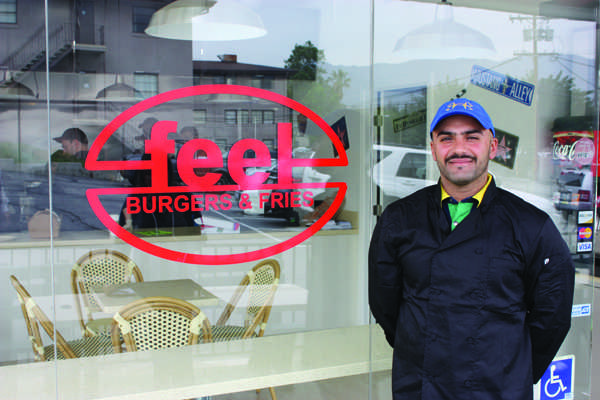 The fast food giant McDonald's, which was located between Towne Avenue and Canada Boulevard, has been permanently shut down.
A letter has since been posted on the front door of the closed eatery that reads: "Dear Valued Customers, unfortunately, this location has been permanently closed for business as of March 27th, 2016. Please visit any of our surrounding McDonald's restaurants in the area. Thanks for your loyalty to brand McDonald's."
Tristan Nguyen, a nursing student at GCC, said he isn't affected much by the restaurant's closure since he doesn't eat there frequently.
"I actually just noticed it was closed about a few days ago, when I tried to go there at midnight," Nguyen said.
English major, Jocelyn Lopez, was surprised, but believed that it is strange for McDonald's to just get up and leave.
"I think McDonald's is too big of a company to just close all of a sudden," Lopez said. "Maybe they didn't have enough money, but it seems eerie to just close for no apparent reason."
While Lopez believes there might be something going on as far as the business side of things, psychology major Rosy Aragon thinks that the closure may be both a good and bad idea.
"It's a good yet bad thing with McDonald's closing," she said. "Good for the businesses around the area, but bad because college students can be picky when it comes to picking what they want to eat."
In April 2015, McDonald's announced that it will be closing around 350 under-performing restaurants, mainly in Japan, the U.S. and China. Ironically, by the end of 2015, McDonald's ended with 36,525 restaurants, 267 more than there were in 2014.
Steve Easterbrook, CEO of McDonald's, told Brian Sozzi of TheStreet.com that they are planning to expand in Asia by opening 1,500 restaurants in China, Hong Kong and South Korea in the next five years.
"Asia represents a significant area of opportunity for McDonald's to blend our global quality standards with local insights and expertise from partners who share our vision and values." Easterbrook said.
Business major Narek Hagopian believes that having the closing of the fast food chain is an especially good thing for small businesses. "New businesses can rise without the problem of competing with big businesses, such as McDonald's," Hagopian said.
One could argue that Feel Burgers & Fries will soon become the alternative for students looking to get their hamburger fix and won't have to compete with McDonald's.
The new business venture is located on Verdugo Road just across the street from the campus and has officially open to the public.
Restaurant manager Yousif Al Musawi says he believes that the restaurant will bring a unique style and flavor for customers.
"The difference with us, we use a different grill, it will give [the burger] a charcoal flavor," Musawi said.
Instead of a flat top grill that others typically rely on, it went with the traditional barbecue to get authentic grill marks on their meats. Musawi also explains that this type of grill won't let the flame go through the patty, but around it, locking in the flavor.
Also, not only will it be serving the traditional hamburgers and fries, but it will also offer hot dogs, Philly cheese steaks, grilled and fried chicken, chili cheese fries, cheese fries, garden salads, caesar salads and more. The specialty is in the spices and the patty.
"We count on the burger patty," said Musawi. "We use the angus beef, which is a double-liner burger." A double-liner burger is the equivalent of a double-double burger from In-N-Out.
According to Musawi, this isn't the first time Feel Burgers & Fries will open for business. It took around six years to build two restaurants in the Middle East, specifically in Amman, Jordan. There's one located in Al-Sweifieh and another in Al-Rabieh.
After the restaurant's huge success, eventually the company decided to build an app called, "Feel Burger Jordan." The Google Play app is mainly available for customers living in Amman, can download and view the app in the future. Currently, there is no word if there will be a U.S version of the app available.
In 2013, Feel Burgers & Fries was named best burger in the Jordan Tourism Awards. They were selected by over 10,000 members, which landed them in a prime spot at the "Tip n' Tag," a professional service that helps customers find the best foods and products in the area.
This will be their first restaurant in the Los Angeles area and in the United States.
"In the next six months, the business is planning to open two more restaurants but we're still looking for the locations," Musawi said.
Musawi also says that hopefully there will be more locations in the Pasadena area as well. The structure of the restaurant will be the usual serving: the customer orders the food, workers prepare it, and the customer picks it up. Though it is a fast-food restaurant, Musawi doesn't look at it in that way based on how the food is prepared.
"It's not fast food because in most fast food locations, they serve it frozen," he said. "We serve it fresh."
With the demise of McDonald's, Musawi said he still believes there will be competition when it comes to prices and what the general public are accustomed to eating, but nevertheless he hopes that this restaurant will do as well, or even better, than the restaurants back in Amman.
Discounts will be given for students who are currently enrolled, or for law enforcement officers.
Feel Burgers & Fries is currently hiring. For more information on available positions, call (248) 759-1150 or email: [email protected]
For more information of what Feel Burgers & Fries has to offer visit their Facebook page.