Alumna Makes Forbes '30 Under 30' List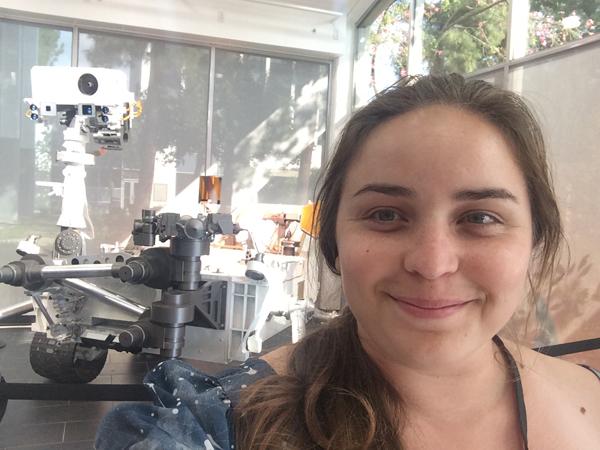 The highly-anticipated Forbes "30 Under 30" list is out and one of the honorees is former GCC student, Dieuwertje Kast. Every year, Forbes magazine's judges select 600 of the brightest "young entrepreneurs, breakout talents and change agents" in 20 different fields, which include science, Kast's area of expertise.
Kast, 27, is the STEM (science, technology, engineering and math) programs manager for the USC Joint Educational Project, where she helps develop science curricula for grades K-12. In 2007, straight out of high school, she was a participant in Glendale's Baja Field Studies Program.
"When I was in high school I knew I wanted to be a marine biologist when I grew up," said Kast. "All of my extracurricular were focused on water, underwater or ocean themes including SCUBA diving, swimming, stream restorations or beach cleanups. I wanted to challenge myself before entering USC as a biology major and pursue an experience that would benefit me in the biology and marine biology field. GCC's Baja field studies program was the perfect fit."
Kast, more often known as DJ, began the three-week summer marine biology course with two weeks in Baja that included doing hands-on science in the field every single day. She learned about physiological adaptations to the ocean environment through dissections. The class observed interactions of the ocean ecosystem and the biodiversity of Baja through snorkeling.
"It was because of this experience that I was inspired to apply to USC as a biology major," said Kast.  "I wanted to continue that sort of field work at the USC Wrigley Institute for Environmental Studies on their campus on Catalina Island. This theme continued into my first master's degree, which is in marine environmental biology and oceanography."
It wasn't long before Kast focused her studies on science education.
"During my freshman year at USC I was hired to teach marine biology with USC Seagrant's Parent Child Education Program (PCEP)," said Kast. "This was truly my first exposure about how socioeconomic status could impact your life. Most of my students did not know how to swim and half of them had never seen the ocean before."
Through this program she shared her love of marine biology and just like the GCC Baja Program, she took students out into the field.
Each class had a field trip to the aquarium and a boat ride in which they did otter trawls and sediment grabs so families could touch and see what lives in the bottom of the ocean in shallow areas.
Konstantin Batygin, an assistant professor at CalTech and one of the "30 Under 30" judges, said that science education and STEM programs are essential.
"I believe that we are at a crossroads as a civilization — perhaps we have been at this point for some time," Batygin said. "In this context the work [Kast is] doing is not simply important, it is critical to our sustained existence as a society that is based on reason."
Just as importantly, Kast is showing children that science can be fun. Parent Claudine King commented that she appreciates Kast's hands-on teaching style.
"She gave a lot of attention to my little one, and taught her so much at the tide pools," King said.
Kast's career has had a meteoric rise. She became the Director of the USC Young Scientists Program through the University's Joint Educational Project in 2013, and was promoted to STEM Programs Managers in 2014. "I incorporate my love of the ocean into my programs in many ways, says Kast. "I have taught fourth and fifth graders at Foshay Elementary all about underwater robots, and the STEM program that I created, named USC Wonderkids, does something marine biology related every semester."
As the STEM coordinator for the USC Neighborhood Academic Initiative she teaches a summer marine biology course.
"I was able to take the class to Catalina for a day of data collecting while snorkeling and kayaking," said Kast. "For many of the students it was their first time in or above the water and it was a magical experience for them. An experience I felt snorkeling with whale sharks in Baja with Dr. [Javier] Gago."
Kast said she is honored to be named to the Forbes list.
"I think they recognize the impact a passionate and dedicated STEM educator mentor can have on the next generation of scientists especially for students that are normally underrepresented in STEM fields," Kast said. "Being included strengthens my belief that helping to educate and train our next generation of young scientists is of utmost importance and further encourages me to move forward with this work."
Kast's next oceanic educational adventure will take her above the Arctic Circle.
"I participated in the National Oceanic and Atmospheric Administration Teacher at Sea program last summer (2015) to combine my love of hands-on research experience so that I can translate it into lesson plans and will be continuing this type of experience in the North Pole next summer (2016) in PolarTREC," said Kast.
"I want to inspire all my students to do field work and be on the front lines of research collection while I give them up-to-date and current data and research from scientists all across the world. In my STEM students I see budding passions and appreciations for science and technology. Not everyone will become a scientist, but science comprehension and interpretation can be applied in a wide variety of fields."
The Baja Field Studies Program will be held July 28 through Aug. 12. The cost is $899 plus standard enrollment fees.