Board Games Might Make a Comeback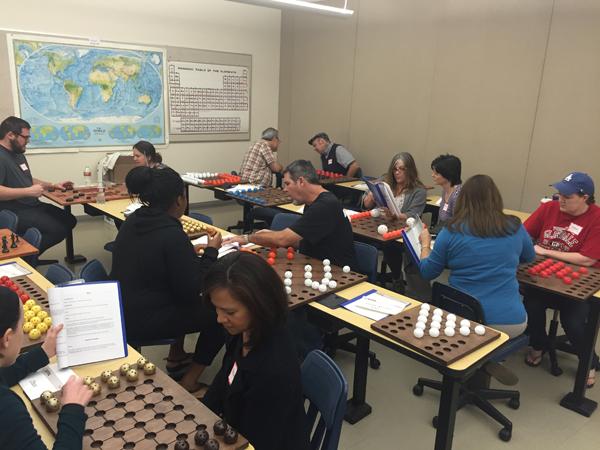 Three mathematicians had one goal in mind when they created SITAL: to foster the analytical skills of students at elementary, middle, and high school levels via board games.
SITAL is a new board game brand aiming to bring ancient ideas back into the classroom.
One of its founders, Simon Guevrekian, held a workshop and mini-lecture at Glendale College on Nov. 13.
While Guevrekian says the goal is simple, the games themselves "take plenty of concentration."
"They boost situational alertness and teaches the students to look two or three steps ahead and do the planning," Guevrekian said.
About 20 teachers from Glendale school districts gathered at the interactive lecture to learn more about these strategy games.
Eighteen games were set up and ready for the teachers to play in order to gain hands-on experience.
The workshop introduced the idea of implementing the games in their classrooms. These thought-provoking games were collected from different civilizations and eras.
Fanorona, for example, originated in Madagascar and was used in divinatory rituals.
"What I like is that they are games from different cultures," Psychology Professor Inger Thompson said. "We're used to Monopoly or Scrabble, but these are strategy games … they're not chance games.
"Another advantage is that they make students think and analyze," Thompson added.
Many of the games could be played with two to four players, making it difficult to incorporate in college classrooms.
The instructors spent most of the workshop playing the games and some of them were quite complex.
There was a large group of teachers from the Glendale High School Special Education Department.
"I think this a great way to apply strategic learning to the classroom even for students with learning disabilities who think different than other students," Teri Vessella, a teacher from Glendale High School, said. "It's certainly another tool."
Greg Martin said: "I think a lot of kids are hands on learners … they tend to gravitate to things where they can be physical with tactile and kinesthetic materials and that assists with the learning process."
SITAL's stragety games encourage students to interact socially while stimulating their minds.
Visit sitalgames.com for more information on rules, information and pricing.