Learning Center Introduces Study Hall Plus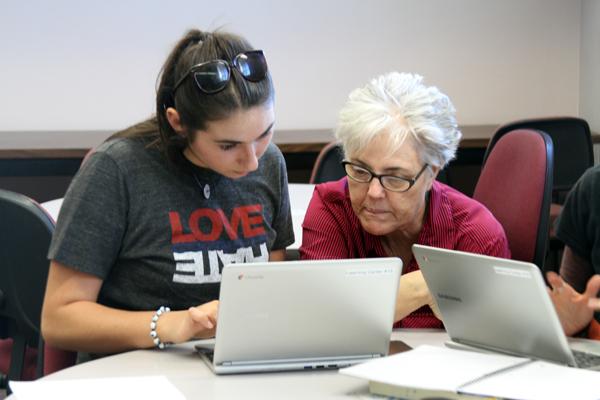 Study Hall Plus, located in the Learning Center, is a new opportunity for students to study in a quiet and comfortable place where they can be helped by instructors and tutors from  Monday to Thursday from 3:00 p.m. to 5:00 p.m.
The idea of having Study Hall Plus came from Shant Shahoian, english instructor and Learning Center coordinator. He initiated the program because he felt that he would have more opportunities to help students with their writing, that he could not do just in the classroom.
"I felt this would be a way for me to help a lot of students at once," Shahoian said.
Study Hall Plus started on Sept. 14 and is available until the end of the semester. According to Shahoian, the reason for doing this is that students often do not have a quiet place to study at home; therefore, they designated an area for those students to do their homework before going home.
Unlike studying anywhere else on campus, students who go to the Learning Center have access to English and math instructors and tutors.
Shahoian said that the program offers a comfortable place for students to do their homework. Students can also do group studies there and when they have questions, they can just raise
their hand and the instructor or tutor will come by.
Christine Guarino, who is majoring in business, came to get help for her English class on Oct. 29. The instructor that day was her English 101 professor, Lynn Woods.
''This is my first time here, but I am going to start doing it more because it is really helpful,'' Guarino said. She came with her classmates because she thinks that it is very helpful to study with them outside of class.
Nairi Mouradian, political science major, came to get help for her English 101 class as well.
''She helps us with the essays, she puts notes and comments, so when I go home it is easy to fix them,'' Mouradian said. It was her third time in the Study Hall Plus.
"We did English and math because found that even when students half are struggling in their chemistry classes, or in history, or in some other subjects, it often comes back to an issue involving writing or Math," Shahoian said.
According to the tutors, many chemistry students' homework includes mathematical principles.
The program is open entry, open exit. Shahoian said that the room has a capacity of 25 to 30 students, but the numbers of students attending the Study Hall Plus have not been high.
Until now the average number of students was four, but they are looking forward to having more students there.
The Learning Center also offers online tutoring called Smarthinking and it has also increased the amount of workshops from 50 to 83 for this semester. ''We are always thinking of ways to help students and improve their success on campus,'' Shahoian said.