Campus Enjoys Sense of Community
Hispanic Heritage Month was celebrated on campus Oct. 8 with live music, traditional pan dulce and respados served up in Plaza Vaquero by the Associated Students of Glendale College.
In a speech given on Sept. 14, President Barack Obama said, "America's Hispanic community has woven unique threads into the diverse fabric of our country and played an important role in shaping our national character as a people of limitless possibility." He declared Sept. 15 through Oct. 15 National Hispanic Heritage Month.
Nationally, the month-long celebration honors the anniversaries of independence of five Latin American countries: Costa Rica, Guatemala, Nicaragua, El Salvador and Honduras. Chile, Belize and Mexico also celebrate their independence days during this period.
Emin Azarian, senator of campus activities, was one of the helping hands putting the fiesta together. "It's important to become familiar with the diverse world around us and celebrate as many cultures as possible," Azarian said. "A man that celebrates other cultures lives a happier life."
The lively music and colorful costumes prompted students and staff to join the professionals to show off their moves. Dancers Celestino Monje, Viridiana Velasquez and Jorge Rivas from Ballet CoCo de Esteban Coronado, a touring professional dance company that provides entertainment at cultural events throughout Southern California, wowed the crowd with colorful and energetic performances.
In attendance was ASGCC Senator of Finance Sergio Dominguez. "We're celebrating the contributions of the Latino students at GCC," Dominguez said. He later joined in on the dancing with a partner, smiling and making the most of the warm weather.
Hispanics compose roughly 30 percent of the campus. According to Edward Karpp in the research, planning and grants department, there has been a 9 percent increase since 2011 and the numbers are steadily growing each year.
ASGCC Vice President Ilona Evelina Mantachian was all smiles during the celebration. She said: "I want to thank everybody that came out to celebrate Hispanic heritage day. My committee and I worked so hard on making it as perfect as possible and it was a dream come true to any VP to see it be such a success."
About the Contributor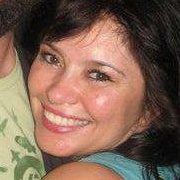 Nancy Villalobos, Staff Writer
Nancy Villalobos is a returning student to GCC working toward a degree in Mass Communications to pursue a career in Public Relations.