Creativity Connects a Community at Montrose Farmers Market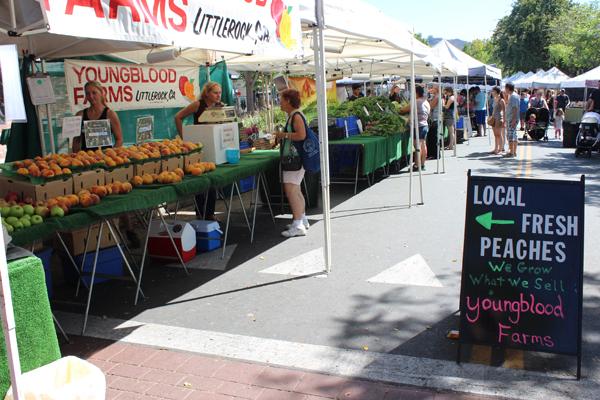 A busy vegan mother of two looking for a one-stop shop to purchase produce for her custom diet, buy all-natural soap, listen to live music and sharpen her kitchen knives, all while keeping her kids occupied, might be stumped. That is, until she visits the Montrose Harvest Market and Marketplace.
The farmers market in Montrose is a 13-year tradition occurring every Sunday in Glendale's historic old town. The bazaar uniquely joins farmers with food and retail vendors. Each week, an average of 60 vendors come together on Honolulu Avenue to connect with their community and sell their products. Here, visitors can browse through the various stands of handcrafted jewelry, clothing, jams and jellies, soaps, ceramics and freshly baked breads. To keep customers both old and young satisfied, the market also features children's recreational activities such as pony rides, bouncy houses and playpens.
In the middle of the circa two-block market, visitors will find a display of soaps neatly stacked on shelves, all in neutral tones and each labeled with creative names like "Dirty Girl," "Absinthe" and "Woodstock." The soaps fill the immediate area with scents of lavender, cloves, cinnamon and eucalyptus.
The stand belongs to Goat Rodeo, a company started by John Lake and his wife Janice. After one of their goats delivered kids, the couple was left with excess goat milk and so, the venture began. Instead of water, the soaps are made with raw goat milk combined with various oils like coconut, olive and essentials oils for fragrance. The ingredients are simple and few.
"It's an all-natural soap. There are no perfumes, chemicals or artificial ingredients," said John Lake. This is Goat Rodeo's third year as a vendor in Montrose.
Farther down the stretch of booths, next to a live band playing "Have You Ever Seen the Rain?" by Creedence Clearwater Revival, stand Doug Meyer and his wife Maxi Mueller. They have been attending the Montrose farmers market as customers for a long time, but this week marks their fourth as vendors. Their company is called Blöde Kuh, which is German for "silly cow," and they sell dairy-free cheeses and yogurts.
After moving to Los Angeles, the couple found that the choices of vegan cheeses were limited and disappointing. Mueller, a vegan, set out to change this by working to create a delicious, but also dairy-free, product using cashews as the base. They now sell their cheeses in different flavors including "Truffle Fluff," "Sir Racha Cheddar," and "Herbie Vore." The company aims to "(celebrate) what veganism is, as opposed to focusing on what it isn't," Meyer said.
Past the booth of Blöde Kuh is a lineup of all the food vendors leading to the end of the bazaar, marked by bouncy houses and ponies resounding with childish squeal and laughter. Walking back along the opposite side, visitors pass a colorful assortment of fresh fruits and vegetables taking them to a stand with an intricate array of honey jars.
Bill's Bees had its official beginning in 1994 when Bill Lewis, an aerospace engineer, decided to turn his childhood passion of beekeeping into a career. The company sells a variety of honeys including avocado honey, buckwheat honey and caramelized honey. They also sell flavored honey, or "HoneyStix" as they call them, in sour strawberry, vanilla chai and banana.
Bill's Bees is passionate about honey bees and the contributions the bees make to global welfare. The company  aims to educate the community about the health of the honey bee population while continuously providing the best possible honey. Leroy Steese is part of the Bill's Bees team and helps sell the product in Montrose. He talks of his love for beekeeping.
"I've done many jobs but being a beekeeper, I wouldn't trade it for the world. Going out and working the bees, sweating gallons and getting stung, there's something about it that's fun and exciting," Steese said.
Among these three vendors stand many more. Organizers of the market are continuously looking for new entrepreneurs to add to this group, and listed on their website is application information.
The Montrose Harvest Market and Marketplace takes place every Sunday from 9 a.m. to 2 p.m., rain or shine.