Roots & Fruits Smoothie Bar Comes to Campus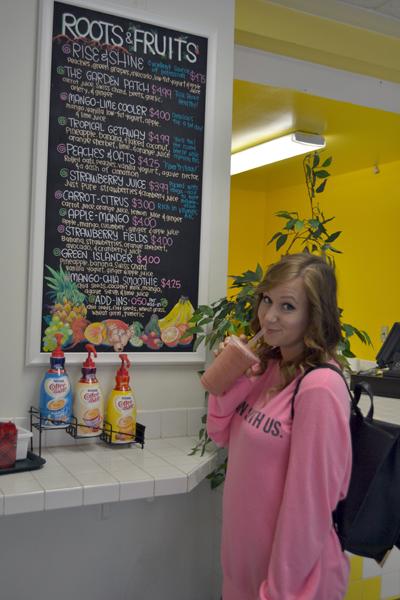 Chia seeds, strawberries, wheatgrass and avocado. These are just some ingredients customers will find in the smoothies at the new Roots & Fruits juice bar, located next to the deli on the first floor of the Sierra Madre building.
The juice bar's loud yellow walls and fruity decor will instantly catch one's eye. These smoothies are a more nutritious option to give hungry college students a boost of energy to get them through the next class.
The man behind the juice, Rick Garay, partnered with Chef Nancy Jordan and decided that there needs to more nutritious on-the-go snacks available for students on campus. With this in mind, they began to create recipes in early spring 2015. Garay said it was a long process of "trial and error."
"There is a lot of nice feedback on the smoothies. Students love it!" food service worker Yolanda Zuno said.
The most popular flavor, strawberry fields, is a delicious blend of cranberry juice, banana, orange sherbert, and avocados. Although one might think avocado seems like an ingredient usually left out of a smoothie, its creaminess helped tie it all together. All of these flavors form a deliciously filling beverage. Another popular flavor is the mango-chia smoothie which consists of coconut milk, chia seeds, mango, agave syrup and lime juice. Some other unexpected ingredients found in Roots & Fruits' smoothies are flax seeds, wheat germ, turmeric, and even garlic. Customers are even able to customize their own drinks based on what's available.
Student Sharis Sarkissian often goes to the cafeteria deli for sandwiches and decided to try the juice bar because it looked interesting. "It's good, it has little coconut chunks," Sarkissian raved about her tropical getaway smoothie.
Transfer counselor Kevin Meza is a regular at Roots & Fruits and visits three times a week. Meza is very excited about having a healthier alternative to the less nutritious snacks that are offered around campus. His go-to flavor is the green monster because it has less sugar.
One of the things that sets Roots & Fruits apart from all other eateries on campus is that it offers stamp cards to students. When you buy nine drinks you get the 10th one free. This promotion has allured even more students to try the juice bar.
"The goal is to be bigger than what we are," Garay said.
With all the bold flavors in the smoothies, Garay and others hope Roots & Fruits will have a future as bright as its decor.
Roots & Fruits is open Monday through Friday 8 a.m. to 7 p.m.