Workshops and Seminars Offer Overview of Addiction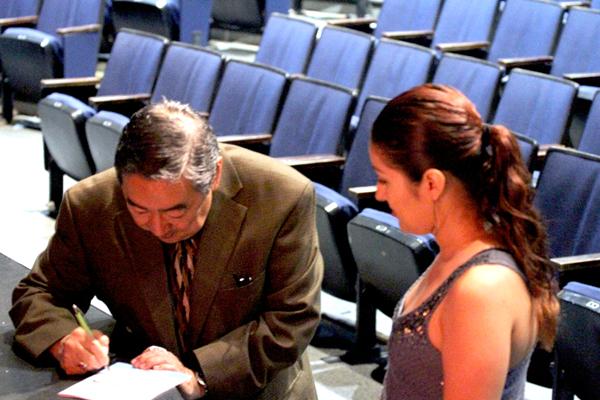 The Annual Health Summit organized jointly by the Alcohol and Drug Studies Program and the Alcohol and Drug Studies Club of Glendale College was held Sept. 10 in the auditorium. Themed "Holistic Treatment: Merging Mental, Medical Health, Substance Dependence Treatment," this year's summit was the third in its series and consisted of a keynote speech by Darryl S. Inaba followed by four workshops led by substance abuse professionals.
Inaba, professor of pharmacology at the UCSF Medical Center and director of clinical and behavioral health services at the Addiction Recovery Center in Oregon, focused his keynote speech on viewing substance abuse as multi-dimensional by addressing all facets of addiction.
He walked audience members through landmark moments in his career including his role as one of the original founders of the Haight-Ashbury Free Clinic, a free clinic in San Francisco that opened its doors on June 7, 1967, with a mission to provide free healthcare to a stigmatized portion of the community.
His lecture presented an overarching theme of understanding addiction as an individualized experience that is painted by a combination of biological and circumstantial factors. With this as his filter, Inaba has been a leading figure in creating culturally tailored treatment plans, particularly in Asian and African American communities.
He is now working in pharmacogenomics, a field studying the relationship between genetic makeup and drug response, where he is advocating for specialized treatment plans based on a patient's DNA.
Inaba's presentation effectively married the science of addiction with the human experience, particularly for Kyle Armstrong, a student in the Alcohol and Drug Studies Program, who drew parallels between his own experience.
"I like the idea of relating on the level of the person (who is addicted). Even in my experience, when I was in treatment…a lot of my counselors looked like me…and I felt way more comfortable discussing personal things with them. So, I like that idea," he said.
Upon the conclusion of Inaba's lecture, Program Director of the Alcohol and Drug Studies Program Benjamin C. Salazar Jr. took the stage to award the keynote speaker with a plaque thanking him for his presentation.
A brief intermission was followed by four workshops covering topics including detoxification, patient confidentiality, effects of addiction on the teenage brain and information about certification programs in California.
The summit lasted four hours and drew in about 65 participants. A goal of the seminar was to provide attendees with information to bridge the gap between the classroom and the field by "[educating] students on topics they might only get exposed to once they are in the profession," said Jiselle Mendoza, president of the Alcohol and Drug Studies Club.
This goal was met for Sharyn McCreedy, another student in the program, who was was attending the lecture to complement her training.
"In this course, you get introduced to a lot of facets of the disease of addiction…but to have a way to put it all together to see how it functions takes a while," she said.
The seminar was able to fuel this process by creating an umbrella to house both practice and theory. Much of the success of the summit is dependent on budget availability.
"We were very grateful to have received a generous donation a couple of semesters ago, which is why we were able to make this summit more extensive in speakers," said Mendoza. Funding permitting, the department aims to continue the yearly tradition for future cohorts of students.