Mary Mirch Plans to Retire and Travel the Globe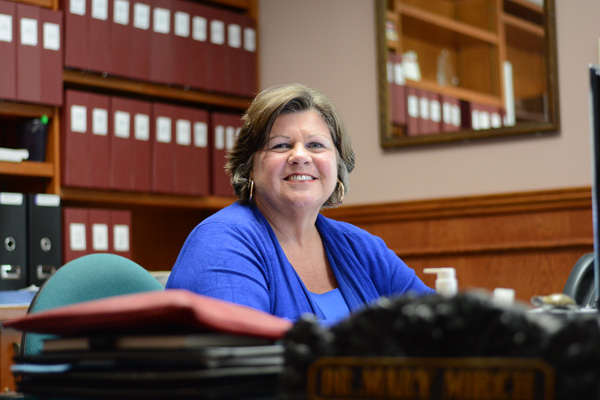 Loved and revered in the eyes of co-workers and students, Vice President of Instructional Services Mary Mirch has decided retire after dedicating 30 years to Glendale College.
"I think they [at GCC] are loosing a strong leader," said Sharon Horejsi, an associate nurse at the Health Center. "A role model [who shows] that professional women can climb up the ladder, can be successful and that they can reach it [to the top]."
Mirch came to GCC from Los Angeles County Hospital in 1985, with both practical and academic experience. She soon found herself climbing the college's career ladder.
"If somebody had asked me what I would be doing 30 years later when I started here, I do not think I would have said the vice president of instructions," Mirch said. "Although, this is where I wanted to be, I never wanted to be a president."
She started off teaching nursing.
"I knew that that I wanted to teach at some point, but it happened a lot faster than I had anticipated," Mirch said. "It is one of those things where you take advantage of the opportunities that are there and it has taken me on the right path."
Her beginnings in the classroom evolved into low-level administrative work for the Health Center in 1995. Mirch said that her work and experience at the center have been vital to her current position.
At present, Mirch said she grew tired in the last six years due to tough accreditation work, new state laws and financial reductions,  which meant dealing with students who "desperately" needed the classes that were cut.
Now that the situation has stabilized, Mirch said she feels that she can pass on her duties to her recently announced successor, Michael Ritterbrown.
"I firmly believe that I need to allow Michael and his team to grow and I need to stay out of the way," Mirch said.
With this mindset, Mirch has decided to set aside her first months for retirement sleeping to recover from the stress of the past six years, but she also wants to help her father move to the area. Once well rested, Mirch, already an avid voyager, plans to travel to Canada in order to see polar bears and the northern lights, followed by a journey to Asia.
Although excited for her retirement, Mirch said that it is going be hard leaving her co-workers and friends.
"I will miss a lot of the people," she said. "I have grown up with them and I hired a whole bunch recently and I would love to see all of the new exciting things they are going to be doing. But [for] the job itself, I am tired."
Those who have  worked with her reciprocate these feelings.
Horejsi, Mirch's former student and co-worker, said that Mirch was a brilliant instructor who always took her time with people and pushed them to follow their dreams.
Long time co-worker Ronald Nakasone, who was announced vice president of administrative services around the same time Mirch was promoted to her current position, also praised his colleague and said he always took her advice with the greatest respect.
"I do not think there is anyone in this college that I have enjoyed working with more," Nakasone said. "I think what people will remember about Mary is her passion for her job, her dedication and her sense of humor."