One Book, One Glendale: Author Introduces 'Mary Coin'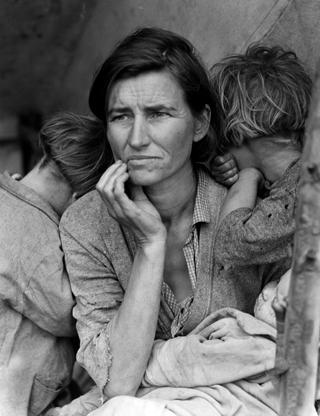 After her introduction as the New York Times Bestselling author of the book "Mary Coin," Marisa Silver strode across the auditorium stage last Thursday.  
"It's an honor to have something that you write be taken seriously and have a college  devote so much of their curriculum to it, so thank you," Silver said, addressing students and faculty.
"Mary Coin" was selected for the  "One Book, One Glendale" series.
Silver's book, published in 2013, was inspired by the photograph "Migrant Mother," taken by Dorothea Lange during the Great Depression.
The photograph depicts a middle-aged woman with her hand against her chin. Her worried eyes stare off into the distance, her two children turned away and her infant held against her breast.
Silver said the image has captivated her as a "beautiful and arresting" embodiment of the era.
"It's been commodified," Silver said. "It's on mugs and on T-shirts. It's one of those images that's in the ether."
It was around four or five years ago when Silver was in New York City at an exhibit for Western photography that she came across the photo once again.
However, this time she found it curious that the curator had said the woman in the picture did not identify herself until  nearly 40 years after the image was taken.
The "Migrant Mother" was actually Florence Owens Thompson, a poor mother of ten who met Lange in 1936, when she was camped on the side of the road waiting for her husband to come back to town.
Lange snapped six photos of Thompson and her children before they parted ways.  She was the only one to gain recognition for the famous photograph until Thompson was desperately in need of money for health care.
"I was really struck by that in a deep, emotional way," Silver said. "Here's someone who is the face of one of the most iconic and important photographs of the twentieth century and she never took credit for it until she was sick and at the end of her life."
Silver realized "there's a book here that I want to write," and so the character Mary Coin was based on Thompson.
She also gave some insight into her writing process of combining reality with fiction.
"I take some things that they actually did in their lives, like the places they went, but then I would create entirely new characters to invest my own imagination in their emotional lives," she said.
Silver also answered questions like "How do you tackle writer's block?" She said that writing is like attacking math homework.
"You do it everyday and little by little. You begin to solve problems and explore things and discover things."
During her writing process of two years, Silver said she wrote 1000 words a day, whether it took an hour and a half or a whole six hours.
"It's not magic," she said. "The more you do, the easier [it gets]."