Drag Softball Game Benefits AIDS Charity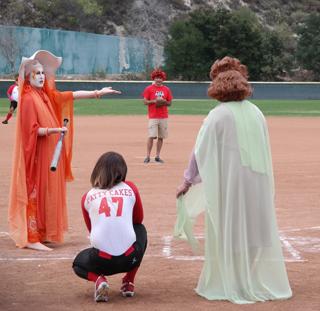 The 4th Annual Drag Queen World Series was held Saturday at the Glendale Sports Complex. Defending Champions of the Sisters of Perpetual Indulgence took on the West Hollywood Cheerleaders to raise money for Life Group LA, a nonprofit that provides education and emotional support to persons impacted by HIV/AIDS.
Participants emphasized that the AIDS pandemic is not over. They want to erase the stigma still associated with the disease. Red Car Trolley sang the Star Spangled Banner, Sister Unity gave a heartwarming invocation and MZ Perez gave a stunning lip synch tribute to Whitney Houston and Bobbi Kristina Brown. DJ Eur O Steve kept the music going and Frieda Laye and Jewza (a drag-queen mashup of Liza Minnelli and Judy Garland) provided hilarious commentary on the game. Umpire Endora was tough but fair. Each team offered a makeover for one lucky fan.
The West Hollywood Cheerleaders won 23-18.