Students Argue Their Way to Nationals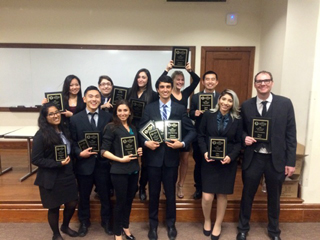 Tucked away in AD 205, a group of dedicated students gather three times a week to fine-tune their forensic speaking skills. Students use these skills to inform, perform or persuade during competions.
Armed with a passion to improve their speaking skills and represent GCC at tournaments, the Speech and Debate Team is on top of their game.
Ira Heffler, speech professor and head coach of the team, said he could not be more proud of this year's squad.
He is still riding high from the National Speech and Debate Tournament held at Butler University in Indianapolis on March 28 and 29.
"I'm really proud to say we came in third place in Grand Sweepstakes," Heffler said. "This is really big. We were the only community college there. We did very well."
Heffler, along with Robert Cannon, director of the Forensics Program and fellow head coach, worked hard to get their team ready for rhw nationals, where
ww80 percent of the team made it into the final round.
Henry Williams, team president, and the only returning member of last year's team, along with his partner, Madison Huske, came in first place in debate in the country. Williams attributes the team's accomplishments to hard work and dedication.
"All these hours everyone puts in to our team, that's why we won, that's why we went [to Nationals]," he said. "I didn't even see my family for two weeks.  I'm sure it's the same for everyone else because we were here, putting in effort 10 to 12 hours a day, most days of the week."
For Nancy Ruiz, who won fourth place in Debate, it was  a once in a lifetime opportunity.
"It has changed my life," she said. "In the short amount of time being here, I feel so much more at home."
According to Jessica Kim, who ranked first place nationally in PowerPoint Sales, words have weight to them.
"What's attractive about speech and debate is the ability to shift emotions and describe concepts and ideas in such a way that is very intelligent," she said.
Brenna Babakhanians changed her major from art to speech because of Cannon and her positive experience with the team. She was shocked to hear she broke into the final round for poetry interpretation with this only being her second time at a major tournament.
"I thought it was only going to be this one semester, but I found people I actually look up to," she said.
For most, it takes courage to speak in front of strangers. Just ask Anita Kasumyan.
"My first speech class I took with Ira in the Winter, I cried and left the room during my first speech. Now that I'm here, and I went to Nationals, it's kind of amazing. We're all like a family now," she said.
Cannon, a GCC alum and Heffler's former student, knows what it takes to win Nationals. He was team president while on the squad from 2005 to 2009. His final year at GCC, not only did he win first place in the nation for Informative Speech, but the entire team took first in the United States as well.
Heffler, Cannon and the team would not have been able to attend Nationals this year if not for the support of the administration.
"I do want to thank Dr. Viar, the president of the college, for supporting our team and allowing us to go to nationals this year," Heffler said. "It was thousands of dollars. We went to him last month, and I said 'I think we should go, we can do quite well.' And he agreed. So, I do want to thank the college administration for funding us to do that."
For Heffler, winning is great, but it's not what excites him about coaching.
"There is something more important to be gained, and it's just about being on a team and doing your best, and the family bonding, in my mind, is much more important than coming home with hardware," he said.
Anyone interested in speech and debate is welcome to join the team.
"Our club is not just an exclusive club for speech people," member Matthew To said.
"We have a pretty diverse group  and at the end of the day, we're just college kids trying to have some fun. We welcome anyone who is willing to take the time and effort to learn some speech etiquette."
Over the weekend, the team competed at the Cool-Off tournament held at Saddleback College.
Their success continues. Rocio Plazola won first  place in Prose Interpretation and third place in Dramatic Interpretation, Brenna Babakhanians won first place in Poetry Interpretation, and Elizabth Wilcox ranked second in Persuasive Speaking.
For more information about the Speech and Debate team, please visit www.glendale.edu/index.aspx?page=4324.