Power Soccer Inspires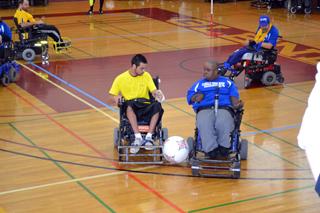 The fifth annual Glendale Invitational Power Soccer Tournament took place at the GCC Verdugo gym on April 11 and 12.
Participating teams included the BORP (Berkeley) Shockers, AZ Heat Elite, Santa Barbara Rollin' Rebels, San Jose Streamrollers, and two Glendale teams — the Rough Riders and the SoCal Vaqueros. Rough Riders originally began as a Disabled Student Programs and Services– adapted physical education course,intended to promote Power Soccer throughout Southern California.