Incumbent Focuses His Lens on Glendale College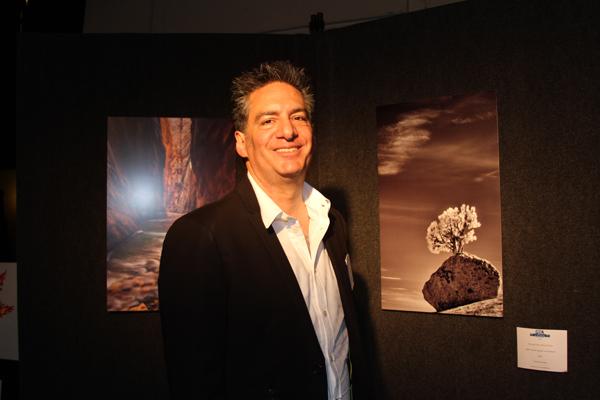 For photographers, capturing the ideal image requires focus, an eye for detail, and composition — the kind that takes what is in front of it and turns it into an expression of art.

Board of Trustees President Vahe Peroomian, 50, who is up for reelection, is also a self-trained photographer with an affinity for landscapes, applying the focus required in his artistic craft to his teaching career and leadership of GCC.
A full-time physics instructor at USC, Peroomian connects photography to his profession as an educator.

"There is a synergy between the two," he said during an art exhibit fundraiser for the Glendale Youth Alliance, a non-profit organization serving the city's low-income youth, on March 13.

"[I] was explaining to my students how a polarizer changes the scene that you're photographing and it gets rid of the glare in a lake so you can photograph underneath the water. [It] makes the sky darker and more contrasting, so it is a play between how I photograph and why it works as far as the physics side of it," he said.

Every photograph offers a different perspective and purpose.
He relates each one to the experiences and efforts that went into taking them.
Peroomian recalls photographing a church in Armenia just before dawn and the smell of freshly baked bread lingering in the air during that time.

"You remember that for the rest of your life," he said. "Even as the sun finally shines on the church and you see that amazing light, you take the photo and it's yours forever. You remember the smell of the bread. But it's those experiences that stay with me, not necessarily the photograph itself."

Despite his passion for photography, Peroomian said it usually takes the backburner to his family and professional life.

However, he applies his patience and perseverance as a photographer in his classrooms.

"Right now, at USC, I'm teaching three classes that take about 12 hours of my week and the rest I've made available to my students," he said. "By not turning away students and by making my time available to them, by being patient with them and explaining things, even if it's for the hundredth time, I'm making sure that they learn."

A 36-year resident of Glendale, Peroomian was first appointed to Glendale College's Board of Trustees in 2005. He was elected in 2007 and then again in 2011. He is currently up for reelection again, along with incumbent Tony Tartaglia and challenger Susan Arnall.

As a trustee, he focuses on "students first," concerned particularly with accessibility and success.

"Without both of those, we are not really satisfying our mission," he said. "Student access has declined because of the budget cuts we had…"

However, a presentation by State Community College Chancellor Brice Harris during his visit earlier in March showed that the numbers are turning around. Peroomian said the board's goal is to maximize student accessibility to classes so they can graduate or transfer in two years.

"We have worked really hard to make GCC as successful as possible," he said.
Glendale College is nine percent above the state average for college transfer rates at 49 percent, according to a 2012-2013 Institutional Effectiveness Report.

The report states that the transfer rate was among the highest in its geographical region of 14 colleges, including Santa Monica College, Pierce College, and Pasadena College, ranking tenth out of 111 colleges with available data.

One way Peroomian is trying to increase accessibility is through student identification numbers. After trying to help a friend enroll at the college, he realized it takes up to 10 days to even receive an ID.

"We are now actively changing that," he said. "I've actually demanded that gets reduced to a matter hours, if not instantly. That would increase our access numbers for students who at the last minute decide to take one course or decide that they are ready to start their college education."

Peroomian first joined the board because he realized it was time to give back to the community after living in Glendale for so many years. He is also the president of the board of directors of the Glendale Youth Alliance.
"No matter how busy I am, I always have time to give back to the community," he said. The need to be busy, however, is what drives Peroomian.

"That's something that has come down from my parents," he said. "…I've grown up in a family of people who believed in being busy and being productive."
Peroomian attributes acquiring his doctorate in Physics from UCLA as his biggest accomplishment because it took the most work. While teaching at UCLA between 1999 and 2014, he earned the Department of Physics and Astronomy Outstanding Teaching Award nine times. In 2003, a research team he was a part of received NASA's "Group Achievement Award" for contributing to the Geotail mission.

"I'm passionate about teaching…I'm passionate about my photography. I'm passionate about my family and I'm very passionate about my wife…," he said. "Once something grabs my attention, there is no half way."

Peroomian is endorsed by State Sen. Carol Liu, U.S. Rep. Adam Schiff, The Glendale News Press, the Glendale Teachers Association, and current b oard members Ann Ransford, Anita Quinonez-Gabrielian, Armine Hacopian, and Tartaglia. For more information, check out http://peroomianforgccboard.com/.