LA Writer Series Visits GCC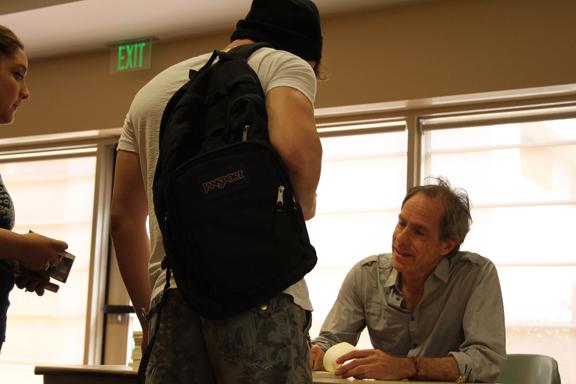 Late bloomers and slow writers can still succeed, author Alan Rifkin assured students gathered Tuesday for the LA writers series at GCC.
Students asked him about his book, "Signal Hill," and his creative process.
"I am not a prolific writer," he said. "I am the slowest writer. I wish I could write 10 short stories every week."
Rifkin did not start writing until graduate school at UCLA, where he began writing a short story.
"I was possessed by a voice and did not want to stop writing," he said.
Amidst sounds of construction, about 75 students gathered to hear Rifkin speak at the event supported by the English department. Rifkin teaches creative writing at Cal State Long Beach and has written for the Los Angeles Times Magazine, Premiere, L.A. Weekly, and The Quarterly.
Co-founded by adjunct English instructors Jocelyn Heaney and director Claire Phillips, the LA Writers event occurs once a semester and has featured writers such as Bernard Cooper, James Elroy and Aimee Bender in its five-year run.
Approaching the podium, Rifkin called it a "nervous privilege" to speak at same event as those writers.
"I'm going to commit the unpardonable sin of explaining my own book" he said, referring to "Signal Hill," a 120-page collection of short stories.
He alluded to parts of it being autobiographical, namely the chapter "Idol of Sickness."
He read from his book's final chapter, which is about a "man in search of love or god or both who finds a rabbi who is either a sage or madman." As he read, many students followed along in their own copies of the book.
Afterward, students lined up to have their books signed by Rifkin.
"It's necessary, the world needs writers," Rifkin said, choosing his words carefully in an interview after the event. "If you have to write, you'll keep writing until you're able to do the work you want."