Pilates Exercises Both Body and Mind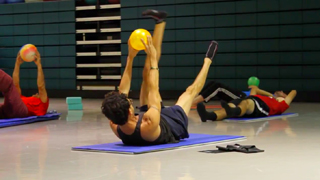 While many people might think that the core of academic success is to study hard, one class on campus revolves around building up a strong physical core, exercising both mind and body.
Diana Diekmann, an adjunct professor of dance, has been teaching pilates at GCC for 13 years.
She described pilates as one of the best forms of exercise because it involves all the muscles of the body and said that the core, the central body strength, determines the outcomes of all the other muscle movements.
"The core is the center of everything," she said. "The stronger the core, the better any movement you do is."
Melissa Warren, a business administration major, describes her core as having gotten "phenomenally stronger" through pilates.
"I can do many sit-ups now, which I could not do before," she said.
She is taking Diekmann's pilates class for the first time this semester for the PE credits required for her degree.
"This was the lesser of all the evil twisters," she said.
Diekmann meets students in all different ages and stages of training and shows modifications of movements for those who are not able to execute them fully.
"Anyone can do it," she said.
Warren currently has an injured toe from a car door accident, which means she is unable to put pressure on it and cannot perform certain moves.
Diekmann said that pilates is a great form of first training for people who are returning from rehabilitation of an injury.
"A lot of people say they don't have back pains anymore, they have more energy, their posture and concentration is much better," she said.
Warren has suffered from a lower back injury and said pilates has both helped her cope with the injury and has reduced her pain. Jonathan Hernandez, a dance major, is also taking Diekmann's pilates class for the first time.
Since there is a lot of cardio involved in dancing, pilates serves as a rewinding and complementary work out.
"It goes hand in hand with the rest of the training I am doing," he said. "It just makes perfect sense."
When pilates was first introduced in America in the 1930s by Joseph Pilates, it was in fact, meant for dancers. According to Diekmann, that is also why it is taught within the dance department at the college.
Although similar movements exist in yoga and pilates, Diekmann makes a clear distinction between the two.
"In yoga you tend to hold poses," she said. "In pilates, we flow and move through the exercise."
Since weights are not used in pilates, it has a different affect and feeling than of just going to the the gym.
"It is just about being in touch with your body," said Hernandez. "'Feeling how your muscles work by themselves."
Diekmann said it has become mainstream in recent years because of the great benefits for anyone who is willing to put in the time and effort to do it.
the gym.
"Just give it a go and try it and see what it can do for you," she said.
However, she advises people not to base their judgment on their first experience. In order to experience the benefits, one needs to be consistent and she said two times a week is a good way to start.
Diekmann reasons that no other training is comparable to pilates because it engages both body and mind in a relaxing yet strengthening way.
"It just helps in all the areas of our lives," she said.