Panel Advocates Integrated Healthcare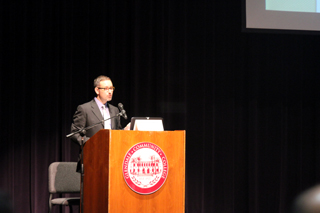 Despite the widespread public discussion  of health care in the United States, most Americans remain under-informed about the different health care programs and plans available to them.
To better inform the Glendale community, Didi Hirsch's Armunity Program and the college's Alcohol and Drug studies program held a Community HealthCare Conference and Resources fair in the auditorium on Sept. 13.
The conference's main objective was to inform members of the college and the community about integrated health care, a unique system that requires communication among health professionals across various fields to better service patients. Panelists from different medical disciplines gathered to inform audience members about the purpose and benefits of integrated health care while also answering questions.
Although the event was free, attendees were still required to register upon entrance. All participants received a ticket for lunch while early arrivals were treated to coffee, bottled water and chocolate chip muffins.
Benjamin Salazar, the director of the Alcohol and Drug studies program, introduced the first panel, which was made up of six professionals from different fields. The panelists were moderator Arsineh Ararat, chiropractor Razmik Mesrkhani, medical doctor Andreh Carapiet, psychologist Charles Pilavian, optician Sonia Hovsepian, and Rev. Hendrik Shanazarian of the Holy Trinity Armenian Evangelical Church.
Essentially, Pogosian described integrated health care as a collaboration between different medical providers that is meant to "help the patient's overall care."
Pilavian said that integrated health care provides "better and more effective care by going back to the basics and seeing the patient as more than a set of symptoms."
The other panelists agreed, adding that the health and wellness of a patient goes beyond a chemical or biological perspective and also relies on emotional, psychological, and spiritual well-being.
The panelists also answered more questions from the audience, addressing hypothetical situations such as how a patient seeking care from an integrated perspective would be treated.  By examining the patient's medical history and daily habits, a professional would direct them to specialists that can provide them with the attention they need
A second set of panelists, introduced by Harout Dimijian, an associate attorney at O'Melveny & Myers, addressed social stigmas and how they pertain to the community and integrated health care. The panel consisted of licensed marriage and family therapists Anita Harutunian and Armineh Gourgian, Glendale police officer Joseph Allen, founding member of the Gay and Lesbian Armenian Society Melineh Saroyan and social worker Sevana Naaman.
According to the panelists, there is a great deal of stigma surrounding issues of domestic violence and sexual abuse, spurring feelings of guilt and shame among victims.
"It all starts in the mind," said Saroyan.
The panelists also addressed homophobia and the feelings of guilt and shame that individuals face due to discriminatory attitudes toward sexual orientation.
When the conference broke for lunch, audience members were able to attend the resource fair in Plaza Vaquero. Different organizations and programs, including the Armenian American Mental Health Association, Gay and Lesbian Armenian Society, and Glendale Adventist Alcohol and Drug Services, were present, providing information on different health services available in the community.
When the conference resumed two hours later, Ararta closed the event by thanking all who were involved.
Ararta, a licensed marriage and family therapist, said that she hoped the audience left the event more educated about integrated health care and more aware of taking preventative measures so that their health does not become an "emergency crisis."