L.A. Noir Author Shocks and Awes Audience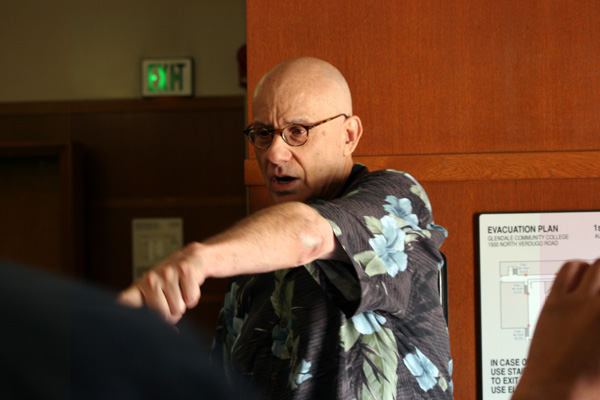 Los Angeles crime writer James Ellroy entertained students, faculty and fans at the GCC auditorium Thursday in a presentation by the Los Angeles Writers Reading Series.
After an introduction by event organizer Claire Phillips, Ellroy's opening remarks both shocked and delighted the audience with unexpected humor and profanity. He spoke with the clipped and brash prose of the narrative style found in his novels.
Ellroy played to a full house in a comic "preacher at the pulpit" style — sometimes loud and boisterous to make a point or to sell a joke; other times soft and quiet to grab the attention of the audience.
English teacher Dennis Doyle said he was impressed with Ellroy's oratorical skills. "I don't know how he keeps it up. I would be lucky to last 15 minutes," said Doyle.
The 65-year-old Shamus award winner is perhaps best known to readers and moviegoers for his novels "L.A. Confidential" and "The Black Dahlia," both of which were made into blockbuster films. Those books, along with "The Big Nowhere" and "White Jazz" are known as the "L.A. Quartet."
His complicated plots involve crime, detectives, cops and his home, Los Angeles, about which he said, "Come on vacation – go home on probation. Forty years ago a pop pundit popped that platitude and clipped a clear chord in my soul," Ellroy said.
On what motivates him to keep writing Ellroy said, "I have to tell stories. I have to live in the stories. I have to live in the emotions of the characters. I have to recreate history."
Referring to himself as a literary megalomaniac he said, "I am the author of 18 books, masterpieces all. They proceed all my future masterpieces. These books will leave you reamed, steamed, and dry-cleaned: tie-dyed and swept to the side, screwed, blued, tattooed and bah fungoo," Ellroy said.
The author cites Ross MacDonald and Joseph Wambaugh as influences and the Los Angeles police department for "giving me something to write about." Ellroy said his great dream is recreate 20th century Los Angeles. to his own specifications.
The author lives a fantasy life, avoiding technology as much as possible to stay in the world he writes about. "I've never been on Facebook. I don't use Twitter. I have a landline telephone," said Ellroy. "My style has come entirely through this process of immersion," he said. Ellroy said he has never logged on to a computer or owned a cell phone.
Despite the humor and light-hearted exterior, Ellroy had many obstacles to overcome. His mother was the victim of an unsolved homicide when he was young. He has dealt with clinical depression and alcoholism. Ellroy put his memoirs into an autobiography titled, "My Dark Places."
Ellroy signed books and posters for dozens of fans and posed for photographs after an audience question and answer session.
Ellroy's next novel, "Perfidia," another crime story set in Los Angeles is scheduled for release in late 2013.
The Los Angeles Writers Reading Series began in 2010 with a grant from the Glendale College Foundation.