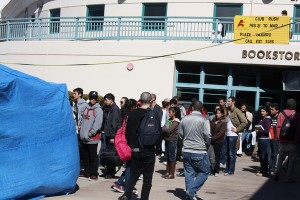 The responsibility of getting to new classes and memorizing a new schedule are things that students deal with on the first day of school.
On top of that, there's always that constant of having to acquire books.
Many factors can affect a student's decision to buy books from the bookstore over an online retailer. Some students cited the convenience of running over to the bookstore after class and picking up their required texts rather than buying them online, though for some that isn't a factor.
"For the first couple of days I do it for convenience because I don't like waiting in line at all, so for convenience I order [the books] online," said Edgar Flores, 19.
Story continues below advertisement
For students like Flores, paying a couple more dollars for faster shipping is easier than waiting in line.
When discussing the prices of books online compared to the bookstore, GCC student Kimberly Esquivel said, "It seems better, though convenience and necessity plays a role," referring to the ease of getting her book from the store instead of buying it online.
Under the new management company Follets, the bookstore has been able to introduce rental and digital download services.
In its first semester of being implemented, bookbuyer Patricia Bradley said that there were about 8 percent rentals compared to 92 percent hard copies being sold.
Students on a budget may consider this as a way to save money, as some of the books are cheaper.
While all the books aren't available digitally, about 20 percent are.
Bradley thinks the rental program, which applies to the whole semester, will make it easier for students to get their texts rather than competing with other students for the book on reserve. If students don't return the book when the semester ends they have to pay back the whole amount.
Director of the bookstore Anjali Stanislaus said the number of people buying their texts online rather than coming into the bookstore has increased. Because the bookstore obtains products from major publishers, it isn't allowed to implement a price matching policy.
"Pricing-wise we really cannot compete with Amazon," Stanislaus said.
According to the National Association of College Stores, approximately 33 cents of every dollar spent on textbooks goes to production costs, while about 12 cents goes to the authors.
Even though price differentials are sometimes drastic, the convenience of getting books on the day school starts can often tip the scales. While some might disagree, student Eliza Tello said, "Saving $30 doesn't make a big deal. You need it you pay for it."
On the other hand, Stanislaus said, "Right now in this economy, the price is the biggest factor there is. Whether it be textbooks or whether it be anything at all."
Many teachers require students to have their books within the first week to hit the ground running, so while online retailers often offer overnight shipping on most items, the final price on the order usually ends up around what a student might pay at the bookstore. However, reviewing the syllabus online before school starts (if available) and ordering before then may remedy this.
Some students might not even think to buy their books online.
Tello said teachers often encourage students to purchase their texts used when available. Teachers also might suggest buying online, but it doesn't come up that often unless it's an older or non-primary book.
The competitive pricing of online retailers in no way helps the bookstore, as sales continue to worsen every semester.
Stanislaus said, "If you were to walk around the store you'd see that there are still plenty of books on the shelves and we are already at the end of the month."
Talking about the students and some of their financial troubles, Bradley said, "Students are hurting. They don't have the money. They're either trying to wait or borrow from a friend, trying to get financial aid to get books. There's all sorts of problems out there now."
The college's Facebook page has become an online market for students trying to sell and buy used books.
There are online forums dedicated to selling books directly to each other, such as https://theclassklinks.com. Though traffic is minimal in comparison to the post count on GCC's Facebook page.
With the addition of a rental program, as well as digital downloads for eBooks, the GCC Bookstore is trying to combat the competitive pricing of online retailers.
While GCC's Facebook page may be filling up with posts everyday, it seems as though the primary means of getting a book is still through the bookstore, with online retailers acting as a backup.