'Fest' Brings out Best in all Cultures
Lillian Wu, El Vaquero Staff Writer
October 27, 2011
People of all ages, ethnicities and walks of life gathered along Brand Boulevard in Glendale to celebrate cultural diversity for the 10th annual Unity Fest on Oct. 16.
"It started in order to introduce all the different cultures to each other because there is a better understanding once you learn about their music, song and dance," said assistant public information officer Vicki Gardner. "There's a better understanding and it brings the community closer together."
Gardner has worked with the festival for 10 years, first in advertising and marketing. Now she is on the committee and takes the pictures for the event.
Both sides of the road from Wilson Avenue to California Avenue were closed to traffic, so that families could stroll leisurely.
The event opened with a performance from the Glendale High School Chamber Choir followed by a lion dance from the Northern Shaolim Kung Fu Association. When they exited the stage, they went around the entire block with vibrant red lion costumes designed to scare away evil spirits.
"I think we have so many different cultures and so many different languages spoken in our schools," Gardner said. "Glendale has a very large population of people from different cultures. So the more they know about each other, the better they are going to be able to get along both in the school, the professional world and the business world.
She also said that it was especially good for the young children to come out and watch the different cultures sing and dance to learn more about others' background.
Mayor Laura Friedman wrote in the program, "Although our residents represent our many different cultures, here in Glendale, we are one community."
Around 2 p.m. Friedman and Glendale City Council member Ara Najarian spoke and thanked the audience for attending.
"I think this is the most colorful, most vibrant, and maybe the loudest fair that we had," said Friedman, who also co-chaired Unity Fest.
"I'd like to thank you all for coming and celebrating what really makes Glendale one of the best cities in all of California and that is our rich ethnic diversity," Najarian said. "From the Filipinos to the Koreans, the Armenians, the Arabs, the Latinos, the Native Americans, that's what makes us great. We appreciate each other's culture and that's why we get along, live with each other, and enjoy the best parts of each of our cultures."
Friedman introduced Mario Lopez, actor and host of the television show "Extra." Lopez walked up the steps to the stage as the audience loudly cheered, applauded and snapped photos.
"Being a proud Glendale resident, I really support and look forward to this festival celebrating unity in the community and also the diversity. With all the beautiful cultures from the Armenians to Mexican culture to Koreans and so forth. I think it's such a great melting pot and it's represented in the culture."
Lopez first hosted the Unity Fest last year. Gardner said someone put them in touch with him and he volunteered.
"We found out last year that he lived in Glendale….he's very proud of his community so he volunteers. This is a totally pro bono appearance. We are not paying him. He is out here to welcome the community and help promote our cultural diversity."
Rep. Adam Schiff arrived at the festival in the late afternoon from another charity event.
At the Korea Glendale Sister City Association booth, Hannah Oh and Namgyu Kil showed traditional Korean instruments and board games displayed on the table. At a nearby table, Glendale Planning Commission Chair Chang Lee distributed information about culture and tourism in Korea.
"This is where we can promote our cultural relationship and diversity in Glendale," Lee said. "I think Korean-Americans are either second or third largest population living in Glendale."
Numerous vendors and community organizations lined Brand Boulevard. One group from the Arabic Community in Glendale attracted numerous bystanders with their music. One of the members, Elias Tanous played the karba, an air pipe, and another member Amad Haddad drummed on the tabla. Other members joined hands while dancing and encircling the booth.
While they played, Marline Gorel danced a traditional dance from Iraq called the dabke. She wore a long sea foam green outfit. Gorel, who has been dancing the dabke for 16 years, said she was happy to be there.
One member Bassum Buny said that this was their first time at the event.
"We are enjoying it; the people are out, the people are dancing and singing," Buny said. "We are telling people about us."
Instrumentalists in the AYO/Spirit group played music on African drums for a large crowd. The main singer encouraged participation from the audience with a call and response. He also said to come out to the front of the stage and dance. Only one man in a fedora and several young children took him up on his offer.
Other entertainment included performances from the Hayastan Dance Center who danced an Armenian folkloric dance medley, an Indian dance and a Persian dance.
Isabelle Sumayan watched as her daughters Aileen Sumayan and Jackie Sumayan performed during the Indian dance.
"They like to dance and they like to learn about the Armenian heritage," Sumayan said. "[The event] is very important for the city and for the community."
For the finale, Crescenta Valley High School's marching band marched the length of the festival route and closed the show.
At California Avenue, there was rock climbing, games, and arts and crafts for the children. One that was doing brisk business was the Aquawalk, where a child or adult could enter a clear inflated ball and walk, run and float on water. For $5, the staff would unzip the clear balloon and then ask the participant to step in. Once inside, the staffers would zip the ball and inflate it until the sphere was about 6-feet-tall.
Six food trucks including Naan Stop were parked along the street. The fragrance of smoked meat from the Original Kabob Factory and Surajung Korean Barbecue filled the air.
This is the third year the event has been in the downtown area since its inception at Verdugo Park.
This year's Unity Fest differs from last year's with the addition of more kids' activities, tables and chairs, and booths that represent new cultures.
Zizette Mullins, Glendale's community relations coordinator and Unity Fest coordinator, said its goal was to bring out new groups that had not participated previously. She noticed that many of the cultural booths have their own entertainment occurring at their booths.
"We accomplished what we were trying to do which was to bring in more cultural diversity groups to the event and have this more of a celebration and really learning about each other's cultures versus just a food fest and walking around," Mullins said. "I see a lot of families together. I see a lot of children really having a blast."
Mullins estimated that there were 6,000 attendees throughout the entire day.
Mullins added, "That doesn't mean that there's no room for improvement; we can always do better next year. We set out to have more groups this year and we did."
About the Contributor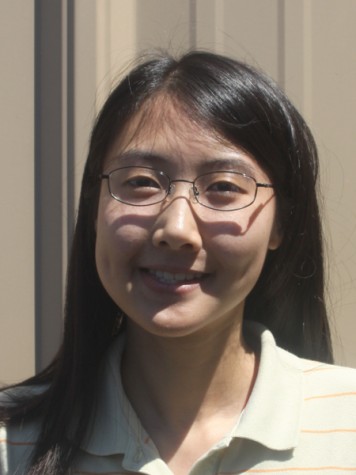 Lillian Wu, staff reporter
I have been at GCC for two years. I joined El Vaquero in spring 2011, and this is my second semester on the staff. Being on El Vaquero has taught me more...