Casa Ortega Closed for Spring Semester
It's noon, and as the lunch lines in the cafeteria begin to wind around the tables, and the noise level rises to deafening decibels, there remains a small area untouched. It's a little pocket of space, where on an empty countertop sits a lonely sign that reads, "CASA ORTEGA. Temporarily closed due to staffing shortage".
For those unfamiliar with the menu, Casa Ortega served a wide variety of Tex-Mex style dishes such as tacos, burritos, nachos and quesadillas. Apart from being very popular for its menu, the food was economical, saving students both money and time.
Anush Balayan, 21, photography major, expressed her disappointment in the news of a closed Casa Ortega. "I liked the quesadillas a lot," said Balayan, "It was good and cheap. The food there was affordable to starving students."
GCC has one of the biggest student-worker programs statewide. However, we are now facing a shortage of student workers due to a combination of factors: a change in eligibility requirements from CalWORKs and the need to create a balance in the student-worker programs budget.
Last year, there were about 200 student workers in the CalWORKs program. However, CalWORKs recently changed its eligibility requirements, making it more difficult for many students to participate in the program. This year only 33 students are eligible to work on campus.
Now, with this sudden drop in eligible student workers and money already having been spent, the budget needs to be balanced. This means that cuts are occurring campus-wide and are affecting everything from labs to the cafeteria.
According to Larry Serot, executive vice president of administrative services, the cafeteria is where a large portion of student workers were employed. With this drastic scale back, the cafeteria has taken a "big hit," said Serot.
Cafeteria workers are now feeling the heat, as more is being demanded from them in order to keep up and compensate for the loss of student work. Anne Brooks, who works in the downstairs cafeteria, said "It's getting pretty hectic around here.especially around lunchtime. The lines are getting longer and we are working harder to make up for all the help the student workers brought to the cafeteria."
The upstairs cafeteria has created and is currently offering a modified Casa Ortega menu. However, for some students, it just isn't the same. Nick Van Meter, 19, business major, said "I'll probably end up eating at one of those places off campus now. Casa Ortega was the only decent place to eat at this campus."
As of now, Casa Ortega has been temporarily closed until further notice. Serot said, "I'm hoping that for the fall we will be back to normal."
About the Writer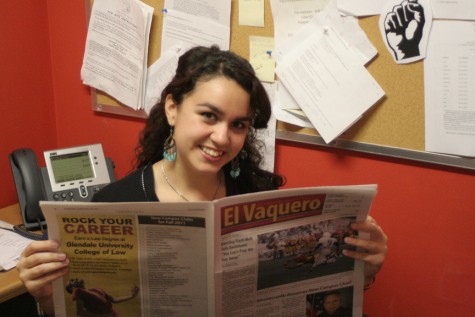 Jessica Bourse, editor-in-chief
My name is Jessica Bourse and I'm the editor-in-chief of El Vaquero, Glendale Community College's student newspaper. After graduating from UC Santa...