Gallery Exhibition Explores Architectural Composition
Far from just being an ultramodern, Ikea on steroids sculpture, Keith Walsh's "CAB1" is a peculiar, yet functional architectural work of art. The wooden sculpture opens and closes, one drawer and wooden flap at a time. But a question remains, is it a transformer or is it a stylish variation of a Frank Gehry building?
There is no telling.
What is clear however, is the splendor of the meticulously crafted works, currently on display at the Glendale College Art Gallery through Jan. 18.
The group exhibition showcases sculptures created by Gian-Martin Joller, Adam Schwartz and Walsh, respectively, as well as four large canvas paintings by Jason Yates.
All four artists tooled around with the concept of architecture, machinery and a slight touch of warfare. The pieces delve into the realm of a "built environment and its defining categories, particularly those that may be associated with the hum of machinery," said gallery director Roger Dickes.
Joller's three pieces, titled "The War Room," explore what the aftermath of warfare might be like.
His stint as a member of the Swiss army, as well as inspiration from Stanley Kubrick's film "Dr. Strangelove," inform Joller's one-of-a-kind sculptures.
In his mind, Joller envisions soldiers stacking playing cards, listening to records, and/or being bored out of their minds while trapped in an underground bunker.
He recalls that while in the Swiss army, he came across the clever use of fluorescent pigment. In case of an atomic blast, the underground bunkers were coated with fluorescent paint so that the soldiers could find their way in the dark.
One of Joller's pieces is a building constructed solely of white playing cards, slathered in fluorescent paint. Even under the gallery's bright light, one can detect the tint of fluorescent paint. However, the sculpture, literally, stands out even more when the gallery lights are dimmed.
Spread throughout the gallery floor on pedestals, one will find Schwartz's sculptures titled "Excerpt from Project Helo 1," a series of works depicting what could be construed as "melting" helicopters.
"I'm really in love with the melting helicopters," said art instructor David Attyah. "[I think that they kind of] document the end of militarism, somewhere in the 21st century by [portraying the] military [as being] vulnerable."
A second glance at Schwartz's sculptures may even bring about the notion of corroding artifacts, found among the remains of a sunken ship.
Yates' paintings give off an allusion to skyscrapers. Each piece looks strikingly similar, with the exception of varying colors. The semi-circle flaps on the canvas are backed by metallic sequins, accentuating the crevasses, and adding a dose of aesthetic flare.
Like past exhibitions, Dickes visited the artists studios and selected which pieces would make it to the exhibition.
"The show is great," said Dickes. "The pieces work well together and truly depict the general theme."
The GCC Art Gallery is open Monday through Friday from 10 a.m. to 7 p.m. and Saturday from noon to 6 p.m. Admission to the gallery is free and open to the public.
For more information contact Roger Dickes at (818) 240-1000, ext. 5663 or visit www.glendale.edu/artgallery
About the Contributor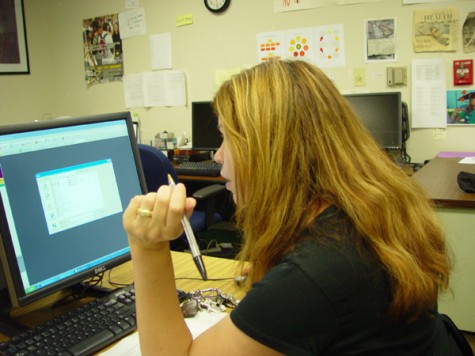 Jane Pojawa, production assistant
Jane Pojawa is a Southern California-based print media editor/writer who also dabbles in web design. Her passion is historical research and has served...