We Can Survive is a Tough Act to Follow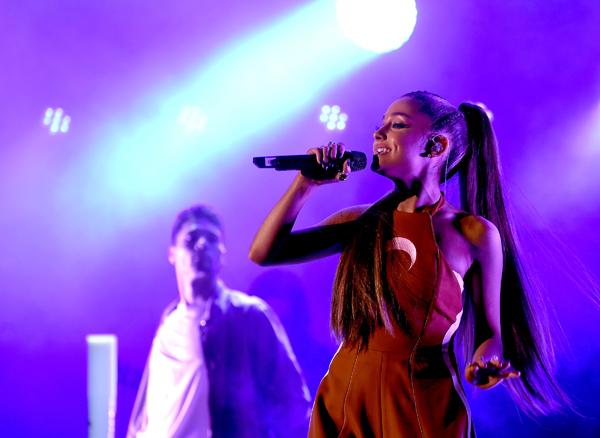 From one artist to the next, the show never stopped at the Hollywood Bowl for CBS Radio's star-studded fourth annual We Can Survive hosted by 97.1 AMP Radio.
Saturday night's line-up featured the hottest artists on the charts: Charlie Puth, Meghan Trainor, G-Eazy, Ariana Grande, OneRepublic, Pitbull and Bruno Mars. The show continued last year's surprise performer appearance.
For every ticket sold, $2 benefited Young Survival Coalition, a premier global organization dedicated to the critical issues unique to young women who are diagnosed with breast cancer.
Fans were welcomed with pink floral leis and styrofoam glow sticks at their seats prior to the show. The night kicked off with 24-year-old Puth. He rose to fame with his hit "Furious 7" soundtrack single "See You Again." For such a young talent his vocal and piano playing ability leaves you in a trance. His soothe vocals from "We Don't Talk Anymore" to "One Call Away" held the audience with him throughout his half-hour set.
Following the pop heartthrob was one of the hottest rappers on the music scene G-Eazy. Screams were heard all around as the Bay Area native stepped onto the stage. His slicked back hair, leather jacket and black T-shirt gives him that James Dean look that make girls drool. His set consisted of past and current featured singles. He opened with the anthem "Random," followed with the club track "Order More." G-Eazy brought out special guest Marc E. Bassy, who performed "Some Kind of Drug" and "You & Me." The event's line-up consisted of popstars, but his presence as a rap artist changed the atmosphere. The Oakland native finished off bringing out Bebe Rexha to perform their worldwide hit "Me, Myself, and I."
A standout artist on the bill was Trainor. She was welcomed on the scene back in 2014 when her music video went viral for "All About That Bass." Majority of the Bowl were on their feet belting every line. She worked the stage like magic never missing a note or move, her jazzy and R&B musical aesthetic surprised me, at just 22 years old she leaves her mark on the stage for all to remember.
Mr. 305, Mr. Worldwide, a proud Miami citizen, Pitbull brought the night to a new high with his comical, masterful hits. His introduction started off serious, a black and white montage playing on the screen, describing his family's journey from Cuba to the states at a time of need and freedom. He emphasized throughout how he took his life from a "negative to a positive." His performance was anything but negative, the dancers gracefully roamed around him, having three dress changes, concluding to lesser clothing each time. Pitbull brought out rapper LunchMoney Lewis for their single "Greenlight." His entire set had everyone on their feet, dancing and jumping.
OneRepublic intertwined their old and new hits from their newly released album "Oh My, My" during the show. Lead singer, Ryan Tedder, performed "Apologize," the track that put them on the map, on the piano with a cellist next to him. As he finished the bridge to embark on the last verse he jokingly told the crowd "sing along if you know the words, and if you don't then welcome back from North Korea." During the final song "Counting Stars," Tedder ran through the crowd, and ended it with dancing around attendees until the lights went out.
From one Florida native to the next, Ariana Grande kicked off with the sultry track "Into You" off her third album. She gave a glimpse into what fans can expect on her 2017 Dangerous Woman arena tour. Wearing oversized brown overalls imprinted with a soft pink moon, a label she has signified as her brand. Her vocal range is one to note, the vibrato and higher notes she can effortlessly hold in tracks like "Dangerous Woman" is unique and breathtaking.
Headliner Bruno Mars was expected to take the stage right after Grande. But suddenly the lights turned out and the background music of an unexpected song began. The opening beats of "Everybody (Backstreet's Back)" engulfed the amphitheater. In unison the crowd stood up, mothers were cheering, children were confused, the Backstreet Boys surprised the sold-out crowd. The world famous boyband played most of their notable hits from "I Want It That Way,"  "Larger Than Life," and "Incomplete." They each had a touch of pink incorporated in the wardrobe for the special night. The Backstreet Boys never missed a step in their choreographed dance moves.
The adrenaline of that surprise didn't stop when Mars took the stage. His music brings together all ages. It was a party that never ended with him and his band. Mars' talent throughout the past seven years have skyrocketed. He closed the night with his current chart topper off his highly anticipated album both titled "24K Magic."
This year's We Can Survive concert is yet another tough act to follow.