First Aid Kit Fired Up the Wiltern Theatre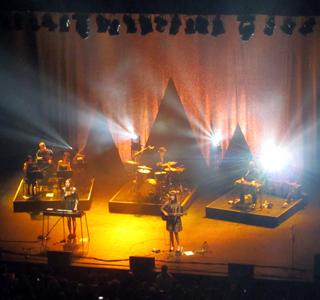 When Swedish sisters Klara and Johanna Söderberg, also known as First Aid Kit, took on the sold-out Wiltern Theatre on Nov. 12, they turned a mellow crowd into one of ecstasy, receiving a well-deserved standing ovation.
Since the duo started uploading songs to their MySpace page in 2007 from their home in Enskede, Sweden, their career has been a fast moving train, touring through Sweden, the United Kingdom and the United States.
They are currently in the middle of their U.S. tour but will head back to Europe to tour throughout the continent, including their home country.
Samantha Crain, a folksinger-songwriter, opened for the duo. Her humility and humor warmed up the audience and her candid lyrics left her mark.
Her performance left the crowd cheering and wanting more, pumping them up for the main talent act, which would go on to sing 18 songs.
The auditorium filled up minutes before the band appeared, and when they entered the stage, they did so through a smoky blue cloud, with a spotlight shining first on the singers then on the accompanying band.
They started off with a safe bet, performing one of their top songs from their 2012 album, "The Lion's Roar." As soon as the first chorus began and the stage lit up, it was the crowd's turn to roar out of delight.
They make their musical intelligence easy to detect as their astoundingly synchronized vocals melted into one. Their unique sound and eccentricity, combined with their sincere lyrics, written straight from their young hearts, cast the Wiltern under their spell.
In their new song "Shattered & Hollow" they reveal their inner thoughts and strife as they move along the road toward prosperity, declaring that they would rather be "broken than empty" and "shattered than hollow."
The next song they performed was "Stay Gold" from their 2014 album of the same name. At this point, the stage became gilded, with spotlights resembling early morning sunbeams, revealing their matching outfits, also in gold.
This song was enough to distinguish a new flavor in their genre — a string quartet  that added a majestic feeling to their otherwise simple arrangements.
There was a constant shift between their old and new albums, which might seem jumbled, but turned out to be a clever mix of nostalgia and recognition, and a refreshing, new modish sense.
After five songs, Johanna and Klara bubbled up with energy, which was transmitted to the audience members as they stomped their feet,  banged their heads and spun around on stage as if floating on a cloud inside the theater.
However, there was soon another shift of mood, going from ecstatic to mellow.
"We would like to ask everyone to shut up," the sisters said in unison. "In a polite way."
As silence ensued, they started to sing "Ghost Town" from their 2010 album without microphones and amplifiers, asking everyone to sing along.
The sheer simplicity of the performance, with them standing at the edge of the stage, compelled the audience to listen to their melodious voices, which created a riveting connection.
The transition to the next song was complete genius, as they went from an intimate performance to rocking one of their newest songs, "My Silver Lining," which has had nearly 16 million hits on Spotify since June.
It was like moving from a vulnerable stage with the gracefulness of their purest vocals to one of self-recognition and of powerful composition, a liberating move to say the least.
The closing performance was one that left people with smiles of recognition. They ended the concert with "Emmylou," their biggest hit, and presented another sing along opportunity for their audience.
It was their slightly modest and simple approach that made them connect with about 1,800 people, and it is their incredibly precise intonation, unison and their eccentricity that makes them one of a kind.