One Book/One Glendale Goes to the Dark Side
Noir, is it the French word for black? Yes, And it's also a term used to describe a crime and mystery genre.
This year, the book chosen for the citywide reading project, One Book/ One Glendale, is based on the book "Los Angeles Noir."
"Los Angeles Noir" is a compilation of noir-flavored fictional short stories by several Los Angeles writers. Cities across America each have their own volumes. The Los Angeles collection includes selections from famous authors such as Michael Connelly, Denise Hamilton and Hector Tobar.
The first citywide book reading event took place in Seattle, Wash., and was started by Nancy Pearl as a way to generate and promote reading throughout the city.
On Monday, the second event in the series will feature a discussion of the femme fatale, a popular device used in the noir genre. The femme fatale is a term applied to a dangerously attractive woman who would captivate her lovers into an often times, doomed fate. The discussion takes place at 6:50 p.m. at the student center.
A key point and element of the program is to bring people together for the purpose of discussing the book being read. On Oct. 28, between 12:20 and 1:30 p.m., the students and teachers of GCC are encouraged to come together to take part in a book discussion.
Hamilton, the author of the short story, "Midnight in Silicon Valley." and editor of "Los Angeles Noir," will be giving a key note address in the auditorium on Oct. 27, from 12:20 to 1:30 p.m.
Another author from the book, Tobar, who wrote "Once More, Lazarus," is set to appear on campus on Oct. 20 from 12:20 to 1:30 p.m. Not only is Tobar a contributor to the book but he is a Pulitzer-prize-winning Los Angeles Times columnist.
Ara Najarian, the mayor of Glendale, encourages the adults of Glendale to take part in this event on the main website of the book.
Other off-campus events will take place throughout the month at different locations. For more information about upcoming events, visit the Glendale Public Library's website at: http://www.glendalepubliclibrary.org/OneBookOneGlendale2010.asp.
—
Calendar of One Book/One Glendale:
Monday
ONE BOOK/ONE GLENDALE EVENT: "The Fantasy of Femme Fatale," a faculty-led panel discussion of the historical/literary perspectives of the femme fatale with Nancy Getty, Elizabeth Kronbeck, Robyn Fishman and Piper Rooney. Student Center. 6:50 p.m. Free admission. FLEX opportunity.
Tuesday
Tuesday Film Program
Tuesdays at 2 p.m.
Central Library Auditorium
This Gun For Hire (1942)
Denise Hamilton talks about Noir with writers Judith Freeman (The Long Embrace: Raymond Chandler and the Woman He Loved) and Tom Nolan (Ross Macdonald: A Biography). Central Library Auditorium
7 p.m.
Oct. 20
ONE BOOK/ONE GLENDALE EVENT: A talk by Pulitzer Prize-winning L.A. Times journalist Hector Tobar. Kreider Hall (SR138). 12:20 p.m. Free admission. FLEX opportunity.
Oct. 26
Tuesday Film Program
Tuesdays at 2 pm,
Central Library Auditorium
White Heat (1949)
Oct. 27
ONE BOOK/ONE GLENDALE EVENT: Keynote address and book signing by author and editor of "Los Angeles Noir" Denise Hamilton. Auditorium. 12:20 p.m. Free admission. FLEX opportunity.
ONE ON ONE: Patt Morrison
Denise Hamilton interviews Patt Morrison
Central Library Auditorium
6:30 p.m.
Denise Hamilton and Los Angeles Noir writers, Gary Phillips and Hector Tobar. Panel discussion & book signing.
Central Library Auditorium
7 p.m.
Oct. 28
Faculty/Student Book Group
12:20 – 1:30 pm (AD243)
FLEX opportunity.
Oct. 29
Friday Flix "The Big Sleep" 12:30 – 3:00 p.m. (SG334)
FLEX opportunity.
Note: off-campus events are held at the Glendale Central Library at
222 E. Harvard St.. For information, call (818) 548-2030.
About the Photographer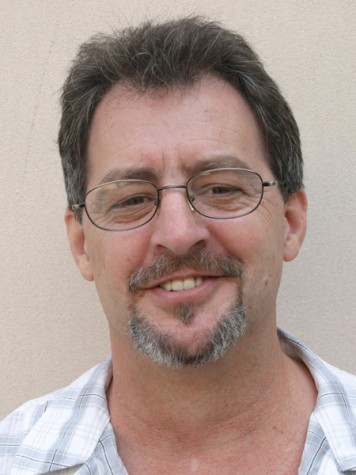 Richard Kontas, Production Assistant
Production Manager; Former Editor-in-Chief and Action Sports Photographer.