Applied Music Recital Showcases Talent
'Tis the season for showcasing musical talent.
In a special recital, students of the Applied Music Program at GCC wowed the audience Friday in the auditorium, giving them a form for strutting their musical skills. The Applied Music Program consists of the premiere vocalists and instrumentalists at the college.
Accompanied by Robert Gates on the piano, the students either sang or played many classical songs on the bassoon, flute, or clarinet individually.
The songs, while mostly somber in melody and lyrical content (which were translated from Italian to English in the program for the audience) provided a glimpse of the talent that occupies the GCC music department.
Rachel Robison sang soprano on Giovanni Pergolesi's "Nina," a somber yet beautiful song about someone's lover becoming bedridden. Another singer, Pamela Glazier, sang "Mon Coeur Souvre a ta Voix" by Camille Saint-Saens. The song often switched from major and minor keys, giving it a tortured feel. Glazier's voice was maybe the weakest of the group, but that's like saying Elaine was the worst character on Seinfeld. There really was no weak link on this evening.
One of the standout instrumental performances was Kyung Lim Chu playing clarinet on "Rhapsody for Clarinet" by Willson Osborne. Chu really shined, as her song contained many triplets and rhythm and tempo changes. It had an Eastern feel to it as well, and was one of the longer pieces, but certainly a job well done by Chu.
The other notable instrumental was Knarik Petrosyan's piano version of Sergei Rachmaninoff's "Prelude in G Minor, Op. 23, No.5." Petrosyan was absolutely brilliant, captivating the audience with her fingers flying up and down the keys.
One of the faster songs of the night, "Prelude" was played with staccato notes, and had the feel of a mad genius at work. But really, that's what Petrosyan looked and sounded like on stage. She did it without any sheet music as well. It was a performance that reminded the audience of how hard the music students have worked this year.
The night ended with the best vocalist performance, Joy Chen singing "Stizzoso, mio Stizzoso,"from the opera "La Serva Pedrona," by Giovanni Pergolesi. The content of the song is about the character Serpino bossing around his annoying woman. Chen, one the younger applied students, gave a great performance, bellowing words from her small frame, with the composure and confidence of someone twice her age. As she left the stage as the final performer, the old showbiz saying rang true; always leave them wanting more
About the Contributor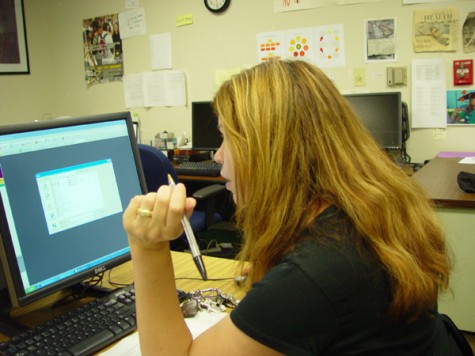 Jane Pojawa, production assistant
Jane Pojawa is a Southern California-based print media editor/writer who also dabbles in web design. Her passion is historical research and has served...