Art Gallery Hosts Australian Group Show
Australia is not just kangaroos, "Crocodile Dundee" and the Sydney Opera House. Just ask the 16 artists whose works comprise "U-turn," an International exhibition currently on display at the Glendale College Art Gallery.
The Melbourne-based artists kicked off the fall season at the gallery with an assortment of works whose themes go far beyond the land down under.
"U-turn," according to co-curators Larissa Hjorth and Kate Shaw, is an exhibition that "operates on many levels."
In the catalog for the exhibition, Hjorth and Shaw state that "like the motion of a U-turn, this exhibition toys with the idea and ambiguities of place as a fixed precept and, instead, explores the notion of migration. In addition, "U-turn" engages the nature of ongoing cross-cultural exchange [which] reflects upon the way [that] the artists draw on the interrelated references of urbanity in both L.A. and Melbourne."
But most importantly, the show highlights the fact that "cultural flows are never linear or one way."
Shaw believes that there are no real distinctions between L.A. and Melbournian art due to the artists' similar use of media.
"If I walked in here and somebody told me that this was a show of L.A. artists, I'd believe them," said Shaw. "We live in such a global culture dominated by media we both share, I just can't [point out any differences]."
The pieces on display were not specifically created for the show; these were all works that Shaw and Hjorth chose from the artists' ample work studios.
Most of the pieces are slathered in vibrant colors, boldly illustrating the subject matter of their works while exquisitely making use of the abundant gallery space.
One of the most colorful pieces on display is Shaw's own piece titled "Salvation Mountain." This acrylic-resin-on-board painting depicts a scenic landscape consisting of snow-capped mountain peaks. However, her intention is to show off more than just the colorful, panoramic view. Shaw's intent is to illustrate abstract chemical reactions through the properties of paint, which mimic the fluidity of an eruption and transformation, driving the visible notion of "landscape as product," which "disrupts its place as an inevitable sign amidst abstraction," according to Ashley Crawford.
Peta Clancy's "Lips" is a C-type print (a color print in which the print material has at least three emulsion layers of light sensitive silver salts), taken from her series; "She carries it all like a map on her skin."
In her series, Clancy aims "to trace out an intimate course for the inevitable demise of the skin."
"Lips," according to the artist, "denotes an intense study of a woman's mouth," achieved through her use of a fine needle, which helped in rendering creases, and lines that form on the lips as a result of the inevitable and dreaded aging process.
The process of creating a work such as "Lips" culminates when the photograph is lit from the side in order to accentuate the ruptured surface and finally, re-photographed to restore that surface in the sheen of the final C-type print.
Aside from the wide range of hanging art prints, "U-turn" offers videos from artists such as Sanja Pahoki, Laresa Kosloff, James Lynch and Hjorth, among others.
The response to "U-turn" has been positive, said Gallery Director Roger Dickes.
"I've seen a lot of students, the first few days, come in and say 'wow,'" he said. "I'm really appreciative of the fact that students are coming through and enjoying it."
Since "U-turn" is an international showcase, all of the pieces that made it onto the show were mailed in. One after another, the pieces would arrive and every time, the unveiling was a surprise.
"We didn't even know what it was going to be," said Dickes, "but I think that it came together really well."
Shaw concurs and adds that "it was a surprise on both ends."
Shaw explained that in order for an "international exchange" to work, Dickes had to have faith in her to send the right art pieces, and Shaw had to have faith in Dickes when it came to installing the work, in order to make the exhibition coherent.
"I think that the ceiling lights [of the gallery] are great [and it's just a] lovely looking gallery," said Shaw. "Roger runs it in a really professional way and so does the staff. It's been a great experience."
Shaw and Dickes' friendship dates back several years to when Dickes traveled to Australia to exhibit his work in a group show that featured Shaw.
Their friendship facilitated the production of "U-turn," as well as the acquisition of a grant, given by Arts Victoria. This grant covered the transportation fees for the artworks; however, all was not as smooth as the transportation.
In Paul Quinn's series titled "Spilling the Beans," "Quinn uses rape as a broader metaphor for a catastrophic militaristic campaign," according to Crawford.
Both of Quinn's pieces depict explicit sexual encounters, pushing the envelope with images of bloody phalluses and acts of sodomy-sure to challenge comfort levels.
Due to the nature of Quinn's work, the pieces were omitted from the exhibition. The only remnant of his art is the black 'X's' on the gallery walls, indicating where Quinn's pieces once hung, and a photo of one of his pieces in the "U-turn" catalog.
The decision to pull the prints was reached after much deliberation and some key advice from one of Dickes' colleagues.
"Most people understood the challenges that I faced in dealing with that work," said Dickes. "We are trying to be sensitive [and] the gallery doesn't want to be in the business of making people uncomfortable," he added.
Although Dickes appreciates Quinn's work, he thinks that the message in the artist's pieces could have been handled differently without compromising the student body's comfort level.
Overall, and despite some last- minute omissions, "U-turn" revels in quirky displays of artistic elements and poignant, but subtle, socially conscious messages.
"I enjoy the sort of slightly disturbing quality of the show," said Dickes. "I think that it says something interesting as far as what Australia might be, not just kangaroos and Paul Hogan, but an essence and personality."
"U-turn" is on display at the Glendale College Art Gallery through Oct. 5. Gallery hours are Monday through Friday from 10 a.m. to 7 p.m. and Saturday from noon to 6 p.m. Admission to the gallery is free and open to the public. For additional information call (818) 240-1000, ext. 5663 or visit www.glendale.edu/art gallery
About the Contributor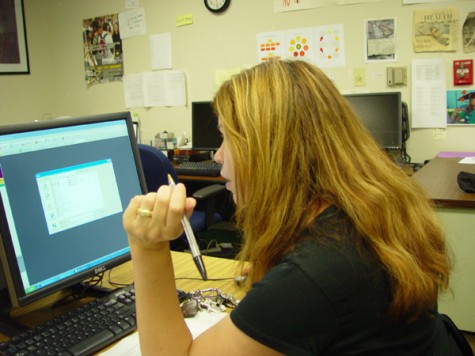 Jane Pojawa, production assistant
Jane Pojawa is a Southern California-based print media editor/writer who also dabbles in web design. Her passion is historical research and has served...