Ready to Shrill
The new body positivity show that isn't afraid of being too loud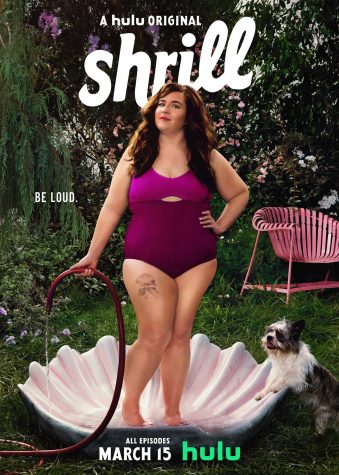 The original Hulu comedy show "Shrill" has been breaking barriers and shining light on a common issue, with a 91 percent on Rotten Tomatoes, the show portrays the struggles of a fat woman, and how "fat" is just another word, not an offense.
Based on the book "Shrill: Notes from a Loud Woman" by writer and activist Lindy West, in the six episodes of the first season, viewers get to witness the growth within Annie (Aidy Bryant), a journalist from Portland, surrounded by misjudgment, and her breakthrough when the sudden realization that she is more than her weight finally hits.
With famous executive producers, such as Saturday Night Live's creator Lorne Michaels, actress Elizabeth Banks, and West and Bryant themselves, "Shrill" is a modern show that will bring body positivity into a different perspective.
Bryant's funny and witty acting from the sketches of SNL is still present, but the raw and real feelings in the storyline separate the comedian from her previous popular performances.
Heartbreaking at times, with the constant highlight on how the assumption of an individual based on their image is wrong; the show is still beyond hilarious and a type of comedy the public isn't normally used to.
The storyline and cuts allow viewers to feel like a part of the show. The characters feel real, in their funniness but also in their harshness. The criticisms of her controlling mother Vera, her moronic man-child boyfriend Ryan, and the mean boss Gabe, all raise the question on how people can be hurtful, even when it's not intentional.
Bryant stated that she learned a lot from West's book. "I want to stop putting all my time, and my money, and energy into trying to make my thighs smaller, and instead try to go after my dreams, and that's what the show is about," she said in an interview with "The View."
In the fourth episode, the emotions and frustrations of Annie are so clear that eventually even those who struggle relating to Annie, could sense the connection of Aidy and Annie was real, hurtful but nonetheless liberating. "I'm fat, but I'm also smart, and creative, and funny, and a good writer and I'm talented," Bryant also mentioned during the interview.
After Annie realizes that many others have also been fat-shamed still live a happy normal life, acknowledging she is fat doesn't stop her from speaking up anymore. "Shrill" isn't about a woman transforming her body and acting on a personal vendetta against an ex-boyfriend. It isn't an unrealistic epiphany where somebody hits their head, or is hypnotized to believe their reflection is all of sudden beautiful and perfect. It's about the process of hurting, healing, and finally accepting who they are.
This is a story where in the world of today, trying too hard or not trying at all to fit into traditional beauty standards doesn't stop, at least not for Annie. In order to be heard, she had to make noise. She had to be shrill.
The second season of "Shrill" was confirmed by Variety and will return on Hulu in 2020.
Tatiana Pak can be reached at [email protected]