Glendale Library Reopens with Sleek New Look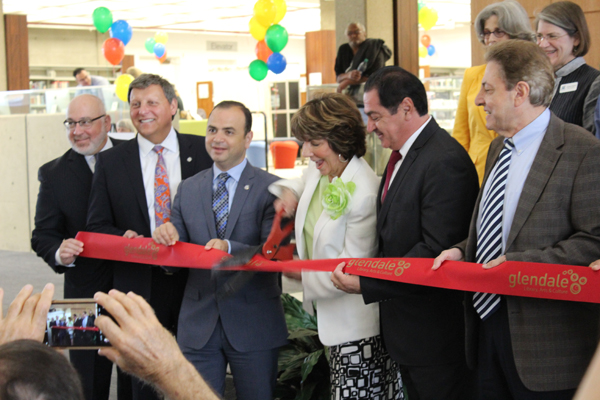 The Glendale Central Library is finally open to the public once again.
The historic downtown city library had been getting a makeover since July 2015 and had been closed entirely since September 2016.
On May 1, residents of Glendale and nearby cities turned out for the grand reopening festivities which included music by the Mariachi Divas — an all-female mariachi band — refreshments, photos with Curious George and Friends, and a magic show for kids.
Glendale Mayor Paula Devine, City Council members, and primary contributors to the renovations project began the ribbon cutting ceremony with comments about the library restoration process and the unique additions for the public to enjoy.
The most visible change is the addition of two entrances, one on the north side and the other on the south side. The north entrance connects the library to the thousands of people who visit downtown businesses across the street, which adds a unique flow to the area, while the south entrance opens to a corridor for those walking from the Adult Recreation Center.
A sleek main pavilion ingress greets visitors approaching from the north entrance, which opens up into a Community Living Room furnished with stylish couches, chairs and tables that give it an impressive modern look.
"It's very open, very nice, much better than before." said Danette Roe, Glendale resident for over 30 years who serves as a volunteer tutor for the adult literacy program at the Adult Recreation Center. "I like that the information area is much more centralized and the beautiful staircase in the center is incredible."
The Community Living Room leads to the ReflectSpace, an exhibition space for visitors to contemplate the major historical human atrocities, genocides and civil rights violations. The inaugural exhibit is called Landscape of Memory: Witnesses and Remnants of Genocide, a showcase of photos and paintings about the Armenian Genocide.
Also included in the library is the MakerSpace, a room the public can use for expressing their creative side. There you can find state-of-the-art sewing machines, acrylics and paper for painting, computer software for design and animation, as well as 3D printers.
The printers are "mainly for creative and artistic purposes," said Kevin Sarian, Senior Library Arts and Culture Supervisor and the Information Technology Manager at the Glendale Central Library. "But if you have a specific design in mind you can come in and make it."
Other additions include an auditorium for performance and literary arts, new conference rooms with Wi-Fi, a Reading Spa, SoundSpace for audio production, Children's Room, and a Computer Technology Lab stocked with Macs and PCs.
Despite the sweeping renovations, Glendale Central Library "traditionalists" need not to worry, as the beloved elevator clock has been retained and the exterior modifications were designed in a manner that preserves the historic architecture, meaning the library remains eligible for the National Register of Historic Places.