Festival of 10-Minute Plays Opens at GCC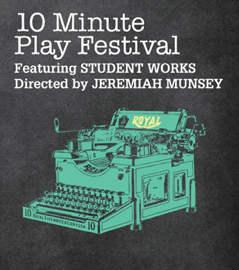 Prefer your theater in a bite-sized portion?
GCC is putting on a festival of short, edgy, shocking and pretty-darn funny plays. All of the plays from the 2017 10 Minute Play Festival were written in Jeanette Farhr's fall 2016 TA 155 playwriting class.
"It's a really interesting format," says Jeremiah Munsey, adjunct theater instructor."In a full-length play, you could have 85 to 120 pages to flesh out an idea. In a 10-minute play your problem is laid out on the first page. Every line counts."
Though he wants the plays to make theater goers contemplate life, culture and where we stand in society, Munsey primarily wants audiences to have fun.
"I want people to be entertained," said Munsey. "At the same time, I want people to come and appreciate that this is essentially a student-driven thing and that first time actors, directors, designers — under the right circumstances — can make real theater."
10 minute plays are directed by Munsey, instructor Matt Braaten, and students of the TA 164 directing class.
Six performances
May 25 – 26, at 7 p.m.
May 27 – 28 at 2 p.m. and 7 p.m.
TICKETS
Regular: $15
Student (w/ ID): $12
Senior (55+): $12