'Futures Without Borders' at the Art Gallery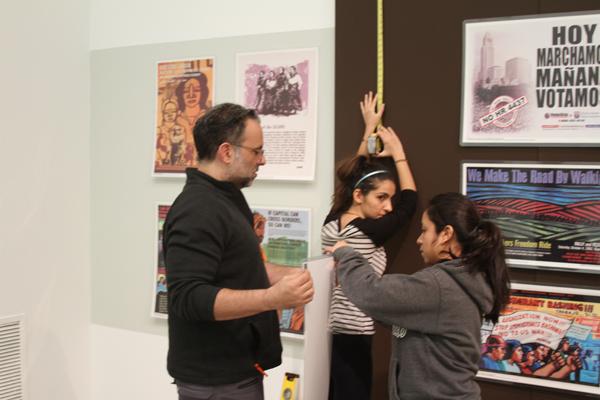 Imagine what it is like to be an immigrant—leaving your homeland and arriving in a foreign place with nothing.
The exhibit "Futures Without Borders" in the college's art gallery next to the library explores the notions that no human being is illegal. It shows the history of immigration throughout the world and describes the phenomenon as we see it today.
The posters illustrate immigration from 1607 to present day giving students different perspectives on where immigrants come from. It also provides an all-encompassing view on how immigration is perceived, with the goal of connecting with other students who identify as immigrants.
This installation is curated by the Center for the Study of Political Graphics, a non-profit organization that strives to educate and inspire people to action through political art.
David John Attyah, the director of the gallery on campus, asserts, "these pieces provide professional quality art to GCC and allows for a broader conversation about immigrants locally and nationally."
It allows for students to understand that the immigration phenomenon is not something that is new and gives them opportunity to reflect on their own experiences. This exhibit "engages a cultural debate amongst students," Attyah said.
The posters also provide a sense of community within the city.
"Building community is one of the main points of this exhibit. We can come together as a community and support each other to ensure that we are informed and to create a community that is welcoming and inclusive," said Ziza Delgado, history and ethnic studies professor at GCC
She also shared that "Future Without Borders" brings students into a conversation about immigration to build strategies to combat the struggles immigrants face in this country.
Delgado said she wants students to feel as if they have resources available to work through  their feelings of confusion, anxiety and despair.
In a journal at the gallery, student reactions to these pieces were  overwhelmingly positive. One student wrote, "We are all connected. Immigrants shape our world for the better through their struggles, sacrifice, and hardships. Embrace your roots no matter who you are or where you're from."
Attendees are encouraged to go, read, and reflect on the posters' messages and design. "Futures Without Borders"  will run until April 13 with a closing reception at 5 p.m. which will include a roundtable discussion and meet-and-greet with cultural critic, Kim Tran, anti-racism activist, Kareem Elzein, and professor Ziza Delgado.