Music Under the Stars in the Planetarium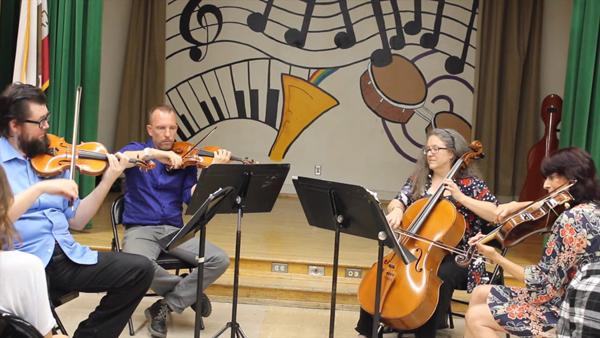 In the Glendale Community College Concert Series, the Kadima String Quartet will perform in another collaboration with the planetarium this month.
The production includes the four musicians: Eric KM Clark and Brian Benning playing the violins, Beth Elliott playing the viola, and Lynn Angebranndt playing the cello. Kadima has its own conservatory and offers private and public classes to those interested in learning.
Kadima and the planetarium have collaborated before, and have been known to impress both the audience and the staff with the music and stars illumnating on the ceiling.
"They have requested what we show," said Jennifer Krestow the planetarium director. "If there's a faster piece we tend to do things more quickly, if they have a slower piece we tend to cruise and check out the galaxy."
The quartet performs a diverse range of music ranging from classical to rock. They have also performed at many notable venues such as Music in the Mansion, the Gateway Performance Series and the Culver City Chamber Series.
The Kadima String Quartet will collaborate with the planetarium at 7 p.m. on March 17. The concert is one night only and reservations can be made at brownpapertickets.com.