Welcome to Planet Mars: Bruno Shines Bright with '24K Magic'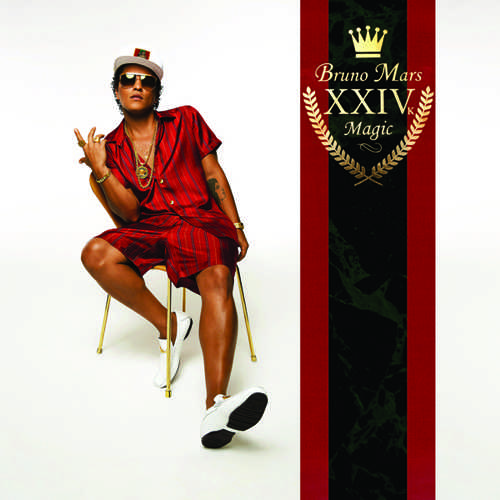 Hang on for a minute...we're trying to find some more stories you might like.
He's back and stronger than ever. One of the most electrifying performers of this generation, after four years of anticipation, Bruno Mars is back with his third ' studio album "24K Magic."
Mars released his last album in December 2012, "Unorthodox Jukebox," but he wasn't a hermit in the music industry since then. He's been on the constant wave of fame with two Super Bowl halftime performances (headlining in 2014, and a cameo in Coldplay's performance this past February), and one of the biggest hits of the past decade, his collaboration with music producer Mark Ronson on the Grammy Award winning track "Uptown Funk."
The opening track and debut single, "24K Magic," resurfaces as a true Bruno song; beginning to end a pure pop song, that has a catchy chorus and beat that hooks you in, that will make you dance till the dawn. It starts off the album with the feel of an '80s dance party, telling all the "hustlas and gagstas" to put their pinky rings in the air.
In the nine-track and a short 33-minutes album, Mars takes us down memory lane through the world of soul, R&B and funk. It's a short yet sweet album.
Notable tracks "Perm" and "Chunky" bring the funky feel we all know and love of Mars. "Perm" gives off the vibe of any James Brown track, getting ready to jump up and do the James Brown shuffle. It involves the right amount of brass instruments and guitar strums, which Mars executes with precision.
As with any Mars album he never fails to slow things down and bring on the sultry and lusty with tracks "Versace On The Floor" and "Calling All My Lovelies." He mimics the styling of Boyz II Men and R. Kelly, and he's said  that's what he aimed for when creating "24K Magic." In a recent interview with Rolling Stone, Mars said he wanted to create the love songs he fell in love with in the '90s at his school dances. The only vocal feature off the album is of Halle Berry in "Calling All My Lovelies" with a very discreet and surprising voicemail message.
He never fails to push his vocal variety and limits in this third studio album, which took 18 months to produce in a small studio in Burbank. His penning love note to his lost lover in "Too Good to Say Goodbye" tugs at the heartstrings as he pierces through the chorus toward the bridge, pleading forgiveness as the strums and beats intensify with his falsetto.
Mars is an incredible act for this generation. He's an artist who has notable writing credibility, vocal range, and stamina for the stage. He has built his career on catapulting hit singles and pop intensified albums. Yet "24K Magic" changes the direction with Mars distracting us from the dull, dried up, repitive bubblegum era of music we endulge on the radio.
Welcome back to planet Mars.