Go – 2016 Open Studio Tour Sheds Light on New Artists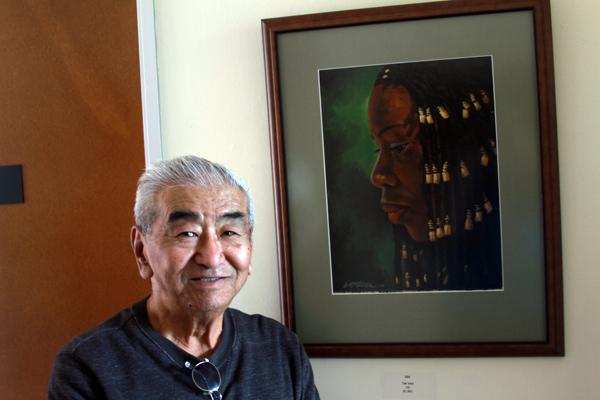 The GO-2016 Open Studio Tour brought local artists into the spotlight and together with the community for a walking tour of studios and galleries throughout Glendale.
The City of Glendale Arts and Culture Commission, along with a new partner of 11:11, a non profit that support artists, put on a walking tour of various artists creative spaces allowing people to see the artist and their work up in person. The free two-day event, gave out maps with different routes to follow, the fine art path or the mixed media route.
"It connects people to their work." said Erin Stone, the 11:11 coordinator for the event. "When the arts are successfully promoted, only good things happen, like anti-gentrification and community support."
This is the first year 11:11 has partnered for the GO tour. Their goal is to create supportive communities for artists. They also aim to help expose budding artists and connect them to their neighborhoods. The Glendale arts and culture commission, is always trying to bring art into the community to bring people together, and has many of the same goals as 11:11.
The studio tour has helped this cause, by bringing people into the 22 featured studios to see the artist's' process, as well as bring people to galleries to see new art.
One of the featured galleries, was not a typical gallery, Molten Metal Works, an open workshop had different sculptures on display made by their members. They also offer a variety of welding classes, and help people with their projects.
Right next door is Community Wood shop that has carvings on display, it is similar to Molten Metal Work, as it also offers classes and an open work area. The owners of both Molten Metal Works and Community workshop have know each other for a long time and joined the studio tour together to show their members work.
The Geo Gallery is another of the featured spots, besides just showing the art they had the artists themselves there to discuss their work. Ioka Tak, an artist whose work is displayed with the geo gallery, he's been painting every day for five and a half years because of this dedication he developed skill and decided to submit his work for the tour.
The Brand Park art center also joined the tour with the "Works On Paper" exhibit, which took submissions from across the country.  Each piece is made with paper and juried by Laddie John Dill, an internationally known contemporary artist.
Each location was within walking distance to the next. The tour not only showcased new art for people to see and it also let people experience areas of Glendale they may not have seen before.