Review: 'We are Stardust'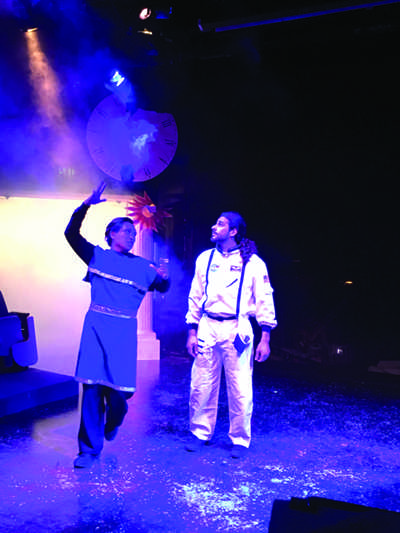 Glendale Community College theater arts department presents "We Are Stardust" through Saturday. The two-hour play is based on a talk given by Neil deGrasse Tyson on the composition of stars and captures the mystery of life through the minds of two astronauts in outer space.
Melissa R. Randel successfully directs a show with smooth scene changes and a comprehensive focus. The play was put together by the students of theater arts 164 (rehearsal and performance in new works and experimental theatre productions) who create a memorable dialogue for the audience.
It also includes original improvisational music by Paul Sherman, played in the beginning and throughout, providing sound effects.
The play starts with a live five-piece jazz ensemble, an added collaboration with GCC's music department.
The strings are played as the dancers surround a mysterious egg-shaped object. Already, they captivate the audience with the spontaneous form of dance and emotion each performer carries with them. They are dressed in black, some covering their faces. As the light darkens in the room, the environment of the play being in space is genuinely felt.
One by one, they speak about love, life and religion, leaving an introduction of what the play will include.
The foundation of the play surrounds the mystery and questions of life. What are we made out of? What connects us? And how did we get here?
These were all answered with a humorous and in-depth response from the characters of past physicists such as Albert Einstein, Isaac Newton, and Galileo Galilei. Each physicists has a different answer, and perspective on how life appeared to be, creating a unique outlook.
Stem Yim plays Albert Einstein and gives a hilarious stand-up comedy skit using real quotes said by Einstein himself. This was a great scene because of his tone of voice and facial expressions, leaving the audience breathless.
The astronauts were sent into space on a mission to release ashes into a black hole, paying their respects to a loved one who passed away. However, things take a horrible turn when their ship malfunctions.
They are then off on an epic adventure trapped in their own minds, and cannot escape unless they answer the three questions. They start to hallucinate sword fighting, witness rap battles, and most importantly seek the answers to the three fundamental questions of life.
A love story is also told in the play between Ash and Stella from the very beginning, and through the play all he desires is to go back to her. She, too, is seeking for the answers of life, but she stays on Earth.
Dion Aghajani and Anthony Leyva play the lead roles of Ash and Alex, who make for a stunning duo.
They provided an outstanding performance throughout the play, making it come to life. Aghajani surprised the audience with laughs, and quirky jokes in his character's tone. His love for the character Stella, is authentic, capturing a real connection.
Student Joshua Archer provided an outstanding performance playing Gilles deBlase Mayson, with a sarcastic and vain look for his character.
He acts for two scenes, with a thick French accent, making his character believable for the audience.
Performances of "We Are Stardust" will be held at 8 p.m. Thursday through Saturday, with a 2 p.m. matinee on Saturday.
Tickets are $15 general admission and $12 for students and seniors.  They can be purchased online at or at the college box office in the Auditorium. Visit www.glendalearts.org for more information.