Festivalgoers Rave About Coachella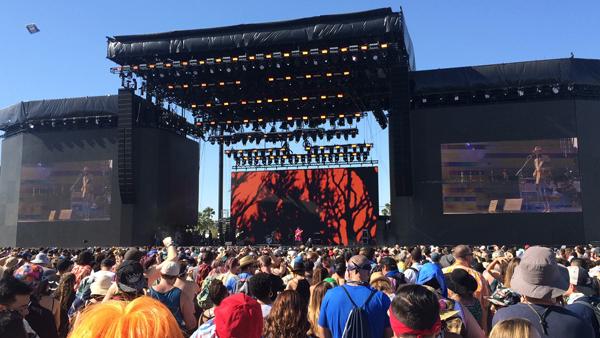 With weekend one of The Coachella Music and Arts Festival in the books, the extravagant aura of the festival becomes ingrained into the festival-goers making Coachella the happiest time of the year for music lovers to come together with their friends and be a part of a cultural experience.
When you think of Coachella, you think of the desert and the music. But what's overlooked is the people you meet and the conversations you have with them.
In the three fatigue-filled days, I sat down next to anyone who seemed welcoming and had them tell me what Coachella means to them, or asked them how they would describe the event to someone who hasn't gone.
Jenny, 18, England: This is the first time I've been here, not my first festival but I like how everyone is a family here. I don't know how to explain it, everyone just seems so friendly to each other. Kind of like we all know each other completely.
Stefan De Castroverde, 26, Los Angeles: This is my third year in a row and I used to try to do a different festival every year. I guess one reason this hits home to me is because I've been living in LA for four years. I feel like [festivals] are the one place everybody can come to and be themselves and you don't have to worry about anybody judging you.
Back home, wherever it may be, whether it be your work or school, family, you know people can judge you for your sexuality or race, gender, whatever it may be. But here, I feel like everybody is here to have a good time and you have no worries. No one wants to pay money for a festival to have a bad time and judge other people.
You just want to come here and let loose and have fun and some people do drugs and some people don't. Everyone experiences it differently but regardless, everybody just lets loose and does their own thing and enjoys it one way or another.
Alex Hilliker, 25, San Diego: My thing is people wait a whole year and this is just everybody's release to get it all out, to be as wild and crazy and have as much fun as they can. Then go back to real life and take that positive energy with them. It's like a refresher every year. I don't even feel like it's an image thing. It really is just appreciating other people having fun."
Calley Lafon, 23, Colorado: Coachella is a gathering of people who share the love of music and want to come together with all their friends and be together and listen to good music. All kinds of music. It's the happiest time of the year. [Coachella is] kind of like a fairy land. It's [filled with] beautiful people, beautiful art and beautiful music. It's really not like the outside world. You're just free from all the worries and the stress from the outside world for a few days and enjoying the music.
Check out elvaq.com for more.