Gailag Book Signing in Pasadena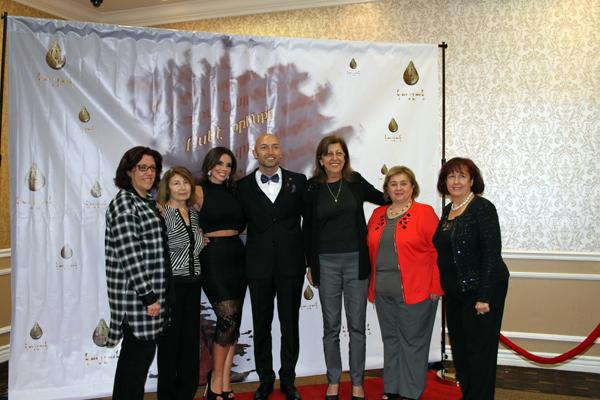 Armenian poet Gailag brought the community together during a signing event for his new book, "Voske Orenkuh" meaning "The Golden Rule," dedicated to the 100th anniversary of the Armenian Genocide.
More than 600 people attended the event on Nov. 23 at the Pasadena Armenian Center in Pasadena. The evening was in accordance to the Armenian genocide that included speeches, dance performances, music, and reciting of his poems.
Gailag, whose real name is Mgo Panossian, said, "This is my hobby, this is not my job. This is what I like to give to my country, to my people." The Armenian poet/songwriter, who was born and raised in Lebanon, move to the U.S. at the age of 14.  At age of 11, Gailag discovered his talent after his teacher submitted his first written work to the Lebanon local newspaper. Ever since then, Gailag began writing songs and published his first book in 2013  "Love and Fire."
This year being the 100th anniversary of the Armenian Genocide, it was a must for Gailag to dedicate a new book.  He said he hardest part of writing that book was that it was emotional for him but mainly he wanted to do it for the new generation to paint a clear image of history. Gailag says in his writings he always tries to find peace and love. In "Golden Rule", he writes about love towards God, towards the people, and towards his country.
"At the genocide when we had the massacre, we died because of love, because we were Christians," Gailag said. "We had the love and faith towards God and that's why we had the Genocide. It was all based on love.''
During the event, Ani Hamazgayin Dance Company performed three historical dances. Anush Kojoyan, who has been dancing for twenty years, performed a solo called Gyumri. Kojoyan said she was  glad to be apart of this event. ''I enjoy any event that showcases Armenian cultural heritage and values,'' Kojoyan said.
The event was sponsored by His Eminence Archbishop Moushegh Mardirossian Prelate, Western USA, and Organized by Hamazkayin Western Region.
The closing speech of the event was delivered by Archbishop Moushegh Mardirossian, who also congratulated the poet and gave his blessings. He then closed the event with a prayer in which all guests joined as well.
One of the guests, Arshaluys Kyuregyan a student from GCC, was amazed at  how this event was put together. "The event was very organized, educational, and well coordinated to touch one's heart," she said.
After the event, Gailag met his guests and signed the books for them. Tables were set aside with food and beverages for people to enjoy.