The Broad: LA's Newest Contemporary Art Destination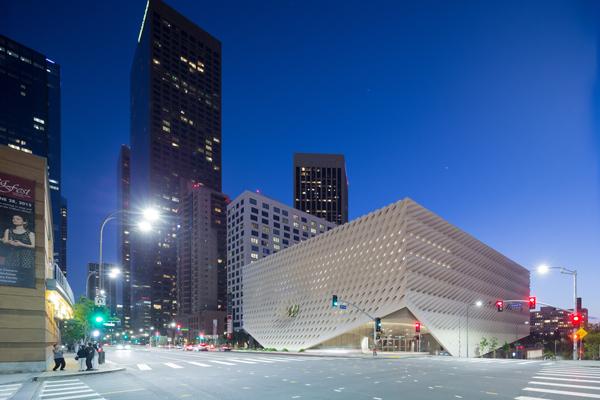 From a vast blue stainless steel balloon dog to to a room coated in mirrors and multi colored lights, Los Angeles' newest contemporary museum, The Broad, has it all.
Billionaire philanthropist Eli Broad and wife Edythe cut no corners after opening up their personal collection of artwork ranging from over 200 distinguished artists among them Andy Warhol, Jeff Koons, Roy Lichtenstein and Takashi Murakami.
The Broad opened its doors offering free admissions to the public earlier this fall. Since then, everyone from art connoisseurs to students and families all over California, have visited Los Angeles' latest landmark museum.
"I definitely see it as a major gift from Edythe and Eli to Los Angeles," Director of Marketing and Communications Alex Capriotti said. "I think you really connect with your art side with what you're seeing."
The museum's design is known as "the veil and the vault." Once inside the building, visitors are able to glance into the "vault," which is used for artwork storage and laboratories. The "vault" holds more than 2,000 works of art.
With this concept, visiting The Broad becomes more of an experience rather than a simple trip to a museum. It serves the purpose of taking its visitors on a journey through the history of contemporary art. Each floor introduces a different decade starting from the 1960s to today.
The journey begins on the third floor where the vibrant "Tulips" by Jeff Koons fills an entire room and leaves space only for the mind to admire his stunning work. On this floor the beginning of pop art culture continues with Andy Warhol's acclaimed "Campbell's Soup Can" and Roy Lichtenstein's "I… I'm Sorry !"
Visitor Service Associate Trinity Singer says there are many things that make the museum stand out. One of them is the service associate program, which allows employees to enhance the experience for all its visitors by answering any questions they might have about the artwork.
"I've gotten really wonderful feedback with people who are really kind of at awe and impressed at the art and how we are able to answer so many questions," she said. "I enjoy that 'ah ha' moment in people when all of a sudden they see something in a way they didn't even think they could and that experience is just wonderful."
Moving toward the third floor visitors pass by the Oculus Hall, which allows them to peek inside the "vault."
Once reaching the third floor guest are able to enjoy artwork from the millennium including Yayoi Kusama's "Infinity Mirrored Room." Also on this floor is one of the museum's longest and most visited artworks, Takashi Murakami's "In the Land of the Dead, Stepping on the Tail of a Rainbow," measuring 82 feet long.
"The art itself here is incredible it's just mind blowing rich and amazing," Singer said.
The museum shares Grande Avenue with several other art and cultural destinations such as Walt Disney Concert Hall, The Music Center and The Museum of Contemporary Art. The Broad's honeycomb-like exterior, however, is a building that can't be ignored.
In collaboration with The Broad, Timothy Hollingsworth, former Chef de Cuisine of Chinese of The French Laundry, is set to open his first rustic style restaurant, Otium. It will not only showcase Chef Hollingsworth's love for food, but also a casual yet elegant dining ambiance. Reservations are not yet available.
The Broad is open to the public everyday except Mondays. Although reservations are not required, they are recommended due to the long lines of visitors. According to thebroad.org, the next available spot isn't until January 2016.
Underground parking is available on Second Street between Hope Street and Grand Avenue the cost starts at $12.
"Hopefully the visitors are exposed to art that they have never seen before and it broadens their concepts as to what the art is," Visitor Service Associate Bob Speck said. "Art is not just a painting on a canvas, it could be something as fantastic like the infinity room or as whimsical as a giant blue balloon made out of stainless steel."