Music Faculty Performs the Classics at Recital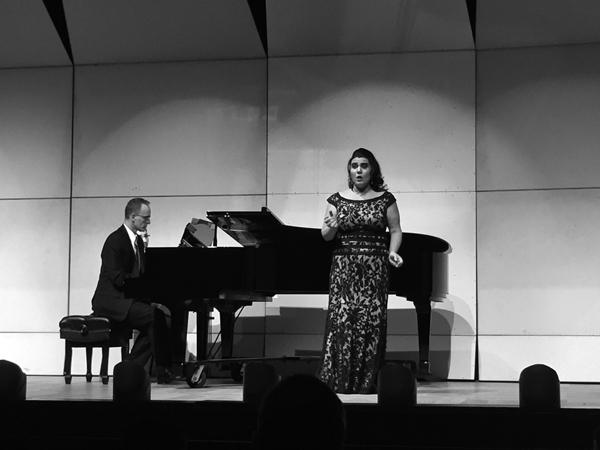 Glendale College music professors showed off their musical talents during the faculty music recital on Nov. 5. The recital consisted of six classical performances.
"You pretty much get to see the masters at work,"said Kevin Louis White, a student who attended the recital." They've dedicated their lives to teaching their craft to students and it was really awesome seeing them perform at their level."
Adjunct professor Cathrine Card opened the show and was accompanied by Gayane Simonyan on the piano. She sang three songs composed by Aaron Copeland. Card is an active recitalist who frequently performs works by American composers.
Next was Bethany Pflueger, who performed two classical pieces on the flute, "Allegro from Sonata" by C.P.E. Bach and Syrinx by Claude Debussy. During her second piece the lights were turned down and she encouraged the audience to close their eyes to further enhance the music.
As the auditoriums lights dimmed, all there was left was the beautiful music that came from her flute.
"They are both really famous pieces that every flutist has to know," said Pflueger. "I've known them forever, but you don't get tired of them because they are so special."
Pflueger's performance was a hit among the audience. "I enjoyed the part in her performance where I closed my eyes and really got to picture where the song was taking me," said White. "I felt that it was the point which I felt most connected to the recital."
Another student, João Hernandez said: "My favorite part was when Beth Pflueger was playing 'Syrinx' second piece and they tuned down the lights."
"The cool part about it was every time she moved you could see the light reflecting off of her flute," Hernandez added. "Also the texture of the music being in a minor key but still sounding happy."
Next, Tobin Sparfeld and Dr. Peter Green took the stage. Sparfeld sang two songs composed by Samuel Barber while Green played the piano.
"I was extremely surprised," said Elijah Lopez, one of Sparfeld's voice students. "During class he critiques us on how we sing words. It was intriguing seeing him incorporate everything he's been teaching us."
Music history professor Dr. Paul Sherman played a few selections from the "6 Metamorphoses After Ovid" composed by Benjamin Britten. He recently performed with the Los Angeles Chamber Orchestra.
Mariné Ter-Kazaryan closed the show with "Vissi d'arte" from "Tosca" by Giacomo Puccini, a song she had dreamt of performing one day.
"(Tosca) is usually meant for a mature woman, so when I was younger — in my early twenties — this was a piece I looked up to performing because it's difficult and you need the chops to do it," Ter-Kazaryan said. " "I am very happy now that I was able to learn and present it at this recital."
As the professors came out for their curtain call, the audience members rose to their feet.
"The thing you can grasp from these performances is how hard the musical faculty works," Hernandez said. Overall the faculty recital made a significant impression on the audience.
"We teach them not only to play or sing better, but hopefully about stage presence and how to prepare pieces that are musical and not just technically correct," Pflueger concluded.
"I'm hoping they saw us do all those things that we tell them to do in the classrooms. I hope that they are able to learn from how we perform, but but also just learn some news pieces they maybe haven't heard before."