'We Can Survive' Concert Featured All Star Line-up
CBS Radio brought together seven artists, along with a special surprise for the third annual, sold-out, We Can Survive concert, presented by Chrysler, at the Hollywood Bowl on
Oct. 24.
The line-up featured the hottest artists on the charts: 5 Seconds of Summer, Demi Lovato, Nick Jonas, Sam Smith, Maroon 5, Calvin Harris, and The Weeknd.
For every ticket sold, $2 benefited Young Survival Coalition, a premier global organization dedicated to the critical issues unique to young women who are diagnosed with breast cancer.
Before doors opened to the public, there was a VIP pre-show soundcheck experience with 5 Seconds of Summer for select Citi cardmembers. The pop-punk band answered a few questions with Booker of 97.1 AMP Radio. Fans couldn't contain their excitement as they were in such close proximity to the band members: Michael Clifford, Ashton Irwin, Luke Hemmings, and Calum Hood.
When asked about how each of them chose which songs to put on their second album, "Sounds Good Feels Good," bassist Hood described the difficulty. "Each member has a personal attachment to a song they create, so it takes effort."
Ecstatic fans surrounded the pit to watch the band perform three songs, which started off with power anthem "Hey Everybody," followed by "Jet Black Heart," and "Disconnected."
The quartet also kicked off the official show. Their setlist included songs from both of their albums They didn't miss a beat and even got the teens up on their feet — some parents too — when they closed with their hit single "She Looks So Perfect."
Pop superstar Demi Lovato was up next. She is a powerhouse. Lovato's vocals pierced through the entire venue as she opened with "Confident," fresh off her fifth studio album. All eyes were on her as she rocked every inch of the stage.
She also performed the U.S. debut of  "For You," hitting each shattering high note with such ease.
Lovato brought the memories of summer back with her closing song and record-breaking single "Cool for the Summer."
From one Disney star to the next. Preceding Lovato was teen heartthrob Nick Jonas.
His steamy performance solidified his transition from member of the Jonas Brothers to solo artist. The audience erupted into full party mode as the R&B-meets-pop music vibe created a dancefloor in each section.
Starting off with "Chains," his stage presence and dance skills revealed what he had been hiding all these years. Jonas strapped on his guitar to close his five song set with chart-topper "Jealous," as the crowd sang along
Four-time Grammy winner, Sam Smith, captivated the audience with his soft melodies and soothing vocals. He announced that this was his final U.S. performance before he returns to England to create the follow up of his renowned debut album.
Smith thanked the crowd for making this performance possible that helps such an "incredible cause." He proceed to swoon the audience with "I'm Not the Only One" and "Like I Can." The piano keys of "Stay With Me" eased in the background and Smith encouraged the crowd to singalong to the ultimate heartbreak record.
The longest performance of the night went to hometown band Maroon 5. Frontman Adam Levine sang most of the band's radio hits, ranging from 2014 track "Animals," followed by "Stereo Hearts"and the band's first single from 2002 "This Love."
As Levine showcased his eclectic dance moves throughout the performance, he and his band unified the crowd and got everyone on their feet.
Electronic dance music disc jockey Calvin Harris didn't want to lose the pent-up momentum. Lights went up when the song "Feel So Close" began. Right when the bass dropped, confetti bursted and smoke machines went off in unison.
Harris jumped around with pure joy as the audience moved to the beat of his hits. The party never stopped with him, four more songs followed and he closed his set with heart pumping dance track "Blame."
The crowd roared as The Weeknd's — and his unique hairstyle — silhouette appeared. He is one of the most talked about artists of the year and he dived right in with"High for This," a 2011 hit which immediately transitioned to a more recent single "Can't Feel My Face"
His tender voice brought his newly released album "Beauty Behind the Madness" to life. Seven songs later,  his voice, the lights and pyrotechnics perfectly melded into the ultimate finale.
At the start of the show the audience was advised to stay through the end via video message and they were about to find out why.
The long awaited moment arrived. As the lights went down, and the stage began to rotate, the backtrack to her song, "B**tch Better Have My Money," engulfed the Bowl.
Rocking a yellow floral top, long black jacket and sunnies Rihanna took the stage. The venue filled with screams and sounds of jaws dropping.
She fit right into this incredible puzzle created by CBS Radio. Almost everyone knew what she was talking about as she introduced the award winning song of her career, "Umbrella." She closed the night with "Diamonds" which coincided with the Bowl's fireworks.
This year's We Can Survive concert is definitely a tough act to follow.
About the Contributor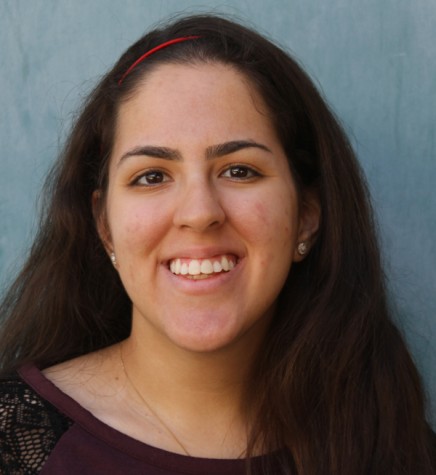 Melody Shahsavarani, Editor-in-Chief
Melody Shahsavarani is currently a sophomore at Glendale Community College. She has always had a passion for news so she joined journalism during her senior...