Play Immerses Audience in Shakespearean Comedy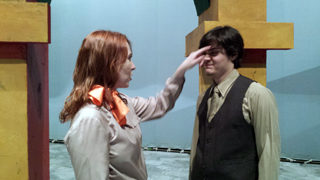 Although the GCC auditorium had some empty seats, the audience's intense applause echoed like a full house on April 11.
Matt Foyer directed the college's rendition of "Much Ado About Nothing" by William Shakespeare, tastefully bringing the 16th century play to life.
The classic romantic comedy features adventure, betrayal, redemption and the trials and tribulations of love. Some jaded viewers may not believe in the romantic aspect of Shakespeare's art, labeling it  cliché or annoyingly unrealistic. Even though "Much Ado About Nothing" contains cheesy romances, the comedic aspects and the actors' character portrayals made the production worth watching.
The audience laughed in their seats various times throughout the play. The romantic side of the story, on the other hand, left audience members in awe and on the edge of their seats throughout the production.
The actors were thoroughly involved with the audience. Scenes took place between the aisles, making the production grander and more engaging.
Shakespearean language may be complicated and difficult to comprehend at times,  but the actors' delivery was smooth and seemed effortless, making it easier for the audience to follow along.
The authentic costume design by Royce Herron played a major role in the authenticity of the production. The simplicity of the set design by Meg Cunningham added a sense of history and originality, while the lighting by Guido Girardi helped set the appropriate mood.
Every audience clap and burst of laughter was well deserved. "Much Ado About Nothing" was fast-paced, hilarious, sweet, romantic and an instant classic.
Upcoming theater productions include "Infinite Black Suitcase," which opens Thursday and runs through Saturday, May 9, and "The Gun Show," which will be presented for free today at 12:20 p.m. in the mainstage auditorium.