Brokechella Offers Quality Festival at Discount Price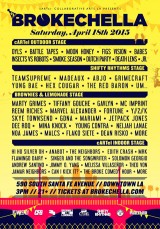 For those without the funds or means to make the long trek to the desert for Coachella, a local music festival delivered a cheaper good time.
Nearly 4,500 people attended Brokechella on April 18 in Downtown Los Angeles.
Multimedia production company cARTel: Collaborative Arts Los Angeles launched the first Brokechella in 2011 with only 400 people at the Airliner Bar in Downtown.
Now in its fifth year, the festival cost a mere $25 at the door  or $20 if purchased in advance.
However, the cut in cost does not mean a cut in quality.
Brokechella featured 50 musical acts varying from indie rock, rap, and electro, as well as a few comedy acts, performing on four stages: the Brownies and Lemonade, Shifty Rhythms, and cARTel indoor and outdoor stages.
Members of the alternative/electropop band Anabot enjoyed performing live, the lead singer's face and arms covered in blue metallic facepaint.
"It was fun, they (the crowd) were engaged," said the group's guitarist Luke Duffy.
Stand up comedian, Theo Von, had trouble getting reactions from his crowd, who were mostly silent, seated and glued to their phones throughout his set.
"I don't think this is the best environment for stand-up comedy, but I made the most of it," he said.
The cuisine was as diverse as the entertainment. A dozen trucks stationed near the festival's entrance served up Chinese, Greek, Mexican, and vegetarian dishes, plus the average burgers and fries.
The longest line, however, was for the beer stand, provided by Lagunitas Brewing Company.
Interactive art displays dotted the festival grounds, including a tent made of neon lights with a pillow-covered floor for attendees to rest.
Attendees played a life-size version of the Jenga block-stacking game .
Throughout the festival, various merchants sold art, clothing, hats. jewelry, and accessories.
"Business is good," said Brad Larson, a vendor from LSTN Electronics who sold headphones made of flamed wood.
"It was a nice, happy crowd, with a good range of people," said Josh Law, owner of Infinite Expression, who spent the day selling his company's hand-made  T-shirts.
A feature exclusive to Brokechella was Puppychella, hosted by No-Kill Los Angeles, where festival attendees can bring their pets to dog-friendly areas on festival grounds.
However, like Coachella, selfie sticks were not permitted.
One festival goer, Liz Wood from Irvine, enjoyed Brokechella and had no problems missing the real Coachella, because it is located in the desert and she does not like camping.
"There were a lot of new things for me [at Brokechella], but it was a lot of fun," she said.