The Shoe Fits With New Cinderella Movie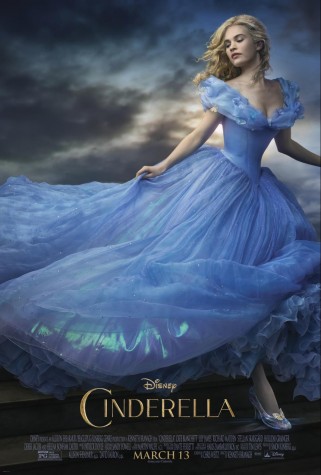 Walt Disney himself would be proud of the execution of the new live action movie  "Cinderella", in theaters now. From the costumes to the quality of production, every aspect is exactly how Disney would have wanted it — practically perfect.
With so many different versions of Cinderella available, like "Ella Enchanted," "Rodger and Hammerstein's Cinderella," "A Cinderella Story," or "Another Cinderella Story," Disney had to make a film that was not only beautiful but also different.
Directed by Academy Award nominee Kenneth Branagh, the movie was already off to a great start. From the casting and beyond, it was clear that countless hours were poured into making sure that everything was spot on. Ella, or Cinderella, played by the talented Downton Abbey star Lily James, and the Prince, or Kit, as he prefers to be called, cast played by Richard Madden from "Game of Thrones," complemented each other in the best way possible.
Neither embodied fairytale perfection, as is expected in a movie like this. They looked more realistic and imperfect, making them more relatable as characters.
One aspect of this movie that was different than the original was the inclusion of Ella's parents. Rather than just mentioning them in a voiceover, they actually went into Ella's backstory and allowed the audience to meet the people that shaped her perspective on life and helped develop her personality. Ella's mother, played by Hayley Atwell of Captain America's Agent Carter fame, taught her daughter how to have courage and be kind, no matter the circumstances, before passing away.  These words stayed with Ella, guiding her with every crossroad. Ella's father, played by Ben Chaplin, clearly loved his family, and wanted only the best for them.
Ella's stepsisters were portrayed differently than the original movie. Rather than being the "ugly stepsisters," they were almost just as beautiful as Ella. This made the story less about their physical beauty being their demise, and more of their inner ugliness, and their mother's unrelenting darkness, bringing them down.
The stepmother Lady Tremaine, played by the eternally talented Cate Blanchett, was impeccable. Shown as more of a fashionista than before, she was able to use whatever position she had at the time to rise through the ranks. In addition, she was given a more thorough and tragic backstory, giving her a reason for the anger.
The quirky and bold Helena Bonham Carter replaced the previously goofy and hapless Fairy Godmother. Her strange style and personality makes her the optimal fairy godmother for the careful and calculated Ella.
Even the animals were presented well. Rather than becoming anthropomorphic, the animals did not speak and instead squeaked in a way that is understandable. They kept the personalities they had in the original movie, and were so incredibly entertaining.
The costumes for every character reflected their personality. From Ella's watercolor-like ball gown, with tiny gold butterfly appliques, to Lady Tremaine's bold and dark striking dresses, the wide range of designs made this movie Oscar-worthy. The stepsisters costumes embody their over the top ways, with each being covered from head to toe in gaudy decorations. Each costume change leaves viewers breathless, but one in particular is beyond even imagination.
It is well known that Walt Disney's favorite animated pieces were transformation scenes, with the original Cinderella's ball gown transformation being his absolute favorite. This one, though, would have blown him away. It made the audience feel like they were taking part in a once in a lifetime event. The CGI animation was so flawless, it was indescribable. Honestly, you need to see it to experience the sheer magic of the moment.
One of the most surprising aspects of the movie was the fantastic representation of people of color. While Disney movies typically are very monochromatic in that aspect, this movie covered races beautifully. Multiple royal families were different ethnicities, including people from the Middle East, China, Japan, Wales, India, Africa, Spain and Russia. Even the royal captain and the prince's right hand man, played by Nonso Anozie, is African.
This movie is perfect for all ages and genders. It touches on all emotions, and has a message all can relate to. Like Ella's mother told her, you just have to have courage and be kind. Where there is kindness, there is goodness. Where there is goodness, there is magic.
5 out of 5 stars.
Local Movie Showtimes
Thursday, March 19
Pacific Theatres Glendale 18
2:00 p.m., 2:55 p.m., 4:35 p.m., 5:30 p.m., 7:10 p.m., 8:05 p.m., 9:45 p.m., 10:40 p.m.
MGN Five Star Cinema
2:00 p.m., 3:25 p.m., 4:25 p.m., 5:50 p.m., 8:10 p.m., 9:45 p.m.
AMC Burbank 16
1:40 p.m., 2:20 p.m., 3 p.m., 4:20 p.m., 5 p.m., 5:40 p.m., 7:10 p.m., 7:50 p.m., 8:30 p.m., 10 p.m., 10:30 p.m.
Friday March 20
AMC Burbank 16
11:40 a.m.
Highland Theater
11:15 a.m., 1:40 p.m., 4:10 p.m., 6:35 p.m., 9p.m..
El Capitan Theatre
10:00 a.m., 1 p.m., 4 p.m., 7 p.m., 9:45 p.m.
Saturday, March 21
Highland Theater
11:15 a.m., 1:40 p.m., 4:10 p.m., 6:35 p.m., 9 p.m.
CGV Cinemas LA
10:45 a.m., 1:30 p.m., 4:15 p.m., 7 p.m., 9:45 p.m.
El Capitan Theatre
10:00 a.m., 1:00 p.m., 4 p.m., 7 p.m., 9:45 p.m.
Sunday, March 22
El Capitan Theatre
10:00 a.m., 1:00 p.m., 4 p.m., 7 p.m.
CGV Cinemas LA
10:45 a.m., 1:30 p.m., 4:15 p.m., 7 p.m., 9:45 p.m..
Highland Theater
11:15 a.m., 1:40 p.m., 4:10 p.m., 6:35 p.m., 9 p.m.