Costner's 'McFarland, USA' Hits a Home Run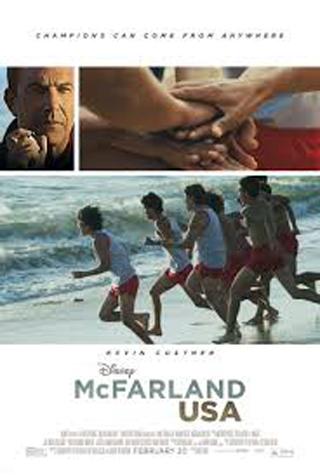 "McFarland, USA," Kevin Costner's latest film, directed by Niki Caro, is all about the American Dream, complete with the struggles of the children of poor immigrants finding their way to victory through a taxing journey of self-actualization and growth.
Yet, it does not induce any of the cynicism induced by those critical of the "American Dream."
Going into the theater, viewers can expect a feel-good movie, but there is a captivating quality to films that express the struggles of the underdog, and "McFarland, USA" is no different.
Costner portrays Jim White, a coach whose temper lands him and his family in the rough town of McFarland, Calif., where the demographic is largely Mexican-American. White and his family are initially uneasy about their new neighborhood, with the youngest daughter even asking "Are we in Mexico?" upon their arrival.
Concerned with keeping his job, White adjusts his temper and tries to make the most out of his new situation as a life science and physical education teacher and assistant football coach. However, when White goes against the main coach's (Chris Ellis) orders and tells an injured player to sit out, the ego-driven trainer takes it up with the principal  (Valente Rodriquez) in an attempt to oust White. Fortunately, the principal sees through the coach's power play and White keeps his job, but this also opens the door for him to start a new team.
After ordering his class to run a few laps, White notices some of the boys' stamina, sparking his idea of starting a cross-country team.
He enlists the help of Victor Puentes (Sergio Avelar), a wisecracking kid with a winning smile, and asks him to recruit enough runners to start a team. They specifically target brothers Damacio (Michael Aguero), David (Rafael Martinez), and Danny Diaz  (Ramiro Rodriguez) and Jose Cardenas (Johnny Ortiz) and Thomas Valles (Carlos Pratts).
After an embarrassing defeat during their first meet, White takes it upon himself to keep the team motivated, but he soon learns of the real-life struggles his students face at home. The Diaz brothers are forced to leave the team at one point because running interferes with their jobs as field workers. In an attempt to convince their parents to let the brothers return, White joins them in the fields, but is barely able to keep up with the backbreaking work. His efforts to connect with the players and their families, however, prove fruitful.
Costner effectively portrays White's resilience as a coach and his dedication to helping his runners overcome their personal struggles.
"There's a very quiet dignity to him," Costner said. "Maybe Jim, when I'm not looking, is hell on wheels somewhere else — I don't know. But I think he is quintessentially 'what you see is what you get.'"
When asked how he got into character, Costner said that the part was written so well that he did not "have to invent little gags to make Jim interesting."
Costner, at times, seemed stiff, but it worked well with his portrayal of a hardened but sympathetic coach trying to find his place in a town where he is one of the only few white people surrounded by a culture he does not yet fully understand.
"Jim doesn't, on purpose, try to act very important or really interesting," he said. "I think he's very level with these kids, and he's so level… that he's also able to tell them when they're off course."
This aspect of his character can be seen throughout the film, as White pushes his team to see past their struggles and run toward a better future without losing his firmness as a coach.
"It's very important to be able to coach in a lot of different ways and coaching is not always about the finish line," Costner said. "Coaching is about the big picture, which is how they're [the athletes] going to be as men… you have to be able to stand in the face of a young man and say 'I need a better effort out of you. I need more discipline out of you. And if you want to be on a team, you have to act like a teammate.'"
The younger cast of unknown actors proved phenomenal. Their moving performance as struggling students trying to break past boundaries placed on young Mexican-Americans from migrant families even moved one audience member to tears.
"McFarland, USA" may have not been nominated for any Oscars, but anybody with a pulse should see the film, if only to get a better perspective on how much harder some people have to work in order to accomplish their goals.
5 out of 5 stars.