Acclaimed Author Explores Cultural Diversity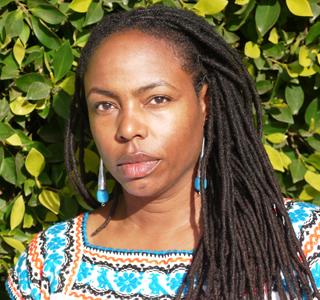 Author and USC English professor Dana Johnson spoke to a roomful of attendees at the Student Center on Oct. 29.
Johnson was selected as a speaker for this year's Los Angeles Writers Reading Series, co-founded and directed by adjunct English professor Claire Phillips, to speak about her acclaimed novel "Elsewhere, California," which was published in 2012.
Johnson described "Elsewhere, California" as a coming-of-age story" that is also "an examination of race and civilization and class" and "kind of a love story between California and Los Angeles in particular."
She began her presentation by reading the book's prologue, which is set in 1977. Johnson uses two different dialects in the book to emphasize class themes.
The novel starts with the protagonist, who grew up with African-American parents, speaking in a vernacular English dialect.  As she moves to a white community, her dialect changes accordingly to assimilate with her environment.
Johnson said that she wanted to use two different dialects to illustrate how, even with just a half-hour journey, there are major identity shifts taking place.
"Even though the book has a great deal to do with race, I was really interested in what progress means, what a journey is," she said. "What is it to begin in one place and end up in another? So, language was one of the ways I chose to examine that."
"Elsewhere, California" took Johnson 10 years to write, starting from the inception of the idea to its final draft.
She has also authored the short story collection, "Break Any Woman Down," published in 2001, where readers first get introduced to Avery, who is also the protagonist for "Elsewhere, California."
"Break Any Woman Down" gained Johnson a Flannery O'Connor Award for short fiction.  The collection was also a finalist for the Christian Right Legacy Award.
Johnson's work is notable for its in-depth look at race and identity and the tension that exists between different races and cultures. Her writing has been featured in several literary journals, including Slake Magazine and Kulula Magazine.
Organized by Phillips, past guest speakers for the Los Angeles Writers Reading Series include James Ellroy, a crime fiction writer known for novels like "The Black Dahlia" (1987) and "L.A. Confidential (1990)," and  Janet Fitch, Aimee Bender  and Amy Gerstler.
"The series emphasizes diversity in the region and authors whose voices exemplify our rich multicultural makeup," Phillips said.
Johnson explores this kind of diversity in her book.
"Dana Johnson is a fascinating contemporary voice," Phillips said. "She writes powerfully about the experience of African American migration and identity particular to the region of Southern California."