'Walking Dead' Soundtrack Reanimates the Series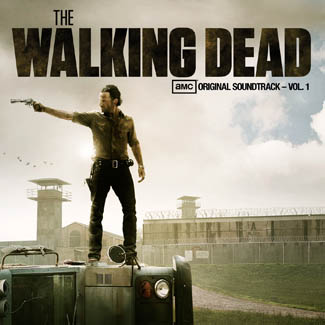 Lean back in a comfortable chair, slap on headphones, close your eyes and dream of zombies.
Fans of "The Walking Dead" can relive their favorite moments while listening to songs from the soundtrack, released on March 17, by Universal Music Group and available on CD and digital download.
All eight tunes are performed by different and unique artists and are perfectly mixed and recorded. Every voice and instrument is clear, smooth and present and creates a thoroughly enjoyable listening experience.
Even those folks out who are not fans of the show will appreciate the sweet melodies and dark tones of these up and coming musicians.
The only downside is the length. Only two songs are more than five minutes long and the rest run for three minutes or less. Listeners will be left wanting more.
Jamie Commons' "Lead Me Home", features acoustic guitar with a dark droning undertone. His slightly raspy voice adds color to the rhythm. This is one of the best songs on the CD, but is also the shortest and runs less than two minutes long.
The soundtrack's "Main Title Theme Song," by Bear McCreary, opens with spooky synthesizers and builds to a crescendo with an underlying hip hop beat. Fans of the show know this composition well and will be pleased to hear it in its entirety. Something bad is going to happen.
Voxhaul Broadcast, a band from Los Angeles, plays the song "You are the Wilderness." This tune is reminiscent of '60s guitar stylings of Stephen Stills and Neil Young, but the vocals sound almost like the Seattle grunge bands of the '90s.
"Love Bug," by Baby Bee, incorporates hard rock and a bit of '80s techno pop with a hard-driving rockabilly guitar solo. The song is a weird, but fun, mix of styles. Scary things must be sneaking up from behind.
The band Fink brings a British rock feel to the song "Warm Shadow," with an acoustic guitar intro a la Yes or Pink Floyd. Look out the window, here comes the undead.
"Sinking Man," by Of Monsters and Men, features a strange harmony and haunting melody with a folksy feel. Emily Kinney sings "The Parting Glass," an eerie melody sung in the Irish folk song tradition, but with scary tones mixed behind the vocals. Kinney's voice is sleek and silky and sure to be heard again. This song lends a calm-before-the-storm feeling to the imagination.
"Running," by Delta Spirit, as the band's name suggests, is a delta blues tune with some nice acoustic guitar work. It's like hearing a zombie chase scene.
The CD has a nice combination of styles. Most tracks are laid back but with a little hard rock thrown in to accent the action scenes where the cast is … you guessed it — killing zombies!