'Wanderlust' Features Naked Seniors, Humor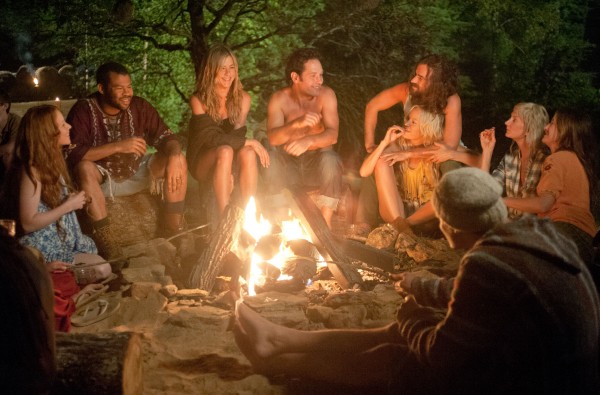 Eric Bourse, El Vaquero Entertainment Editor
March 1, 2012
Audience members who wander into the theater looking for a comedy to watch, need to look no further than "Wanderlust."
"Wanderlust" is a comedy directed by David Wain ("Role Models," 2008). Wain co-wrote the screenplay with his longtime collaborator Ken Marino (also "Role Models").
The film stars the always likeable Paul Rudd ("Our Idiot Brother," 2011) as George and Jennifer Aniston ("Horrible Bosses," 2011) and Justin Theroux ("Your Highness," 2011).
George (Rudd) and Linda (Aniston) are a married couple who recently bought an overpriced studio apartment in New York City. Life seems to not be able to get any better until the company George works for gets shut down by federal agents and Linda's documentary gets rejected by HBO.
Without any money, George heads to Atlanta to live with his obnoxious brother, Rick, (played by Marino) and his family. However, along the way, George and Linda encounter a hippy commune called "Elysium." There they meet crazy characters such as Seth (played by Theroux), the unofficial leader of the group and Wayne, played by Joe Lo Truglio ("Paul," 2011), an aspiring author and winemaker. Oh, and he's also the sole nudist in the group.
George and Linda quickly find joy in a life that doesn't involve the heavy stress and responsibilities of their old lives. However, the longer they live there, the lifestyle becomes less and less appealing.
The acting in the film is top-notch as the chemistry between all the actors is lively and energetic.
Rudd and Aniston mesh well together as the film's leads which is probably the result of "Wanderlust" being the second time they starred in a film together, the first being "The Object of My Affection" (1998).
Alan Alda ("Tower Heist," 2011), plays Carvin, the co-founder and the oldest hippie of the bunch. Although his character doesn't take up much screen time, Carvin is the most fleshed out character in the film besides George and Linda.
Rudd's character delivered the most laughs especially in a scene in which he tries to mentally prepare himself for some "free love" action by looking and talking to himself in the mirror.
That scene, like most of Rudd's recent films such as "I Love You, Man" (2009), showcase his improvisational comedy skills and had the audience rolling in laughter.
Wain's directing was on target for the most part, however there were some issues with the pacing. Sprinkled throughout the film are individual scenes that almost feel like sketch comedy segments. Fortunately, those scenes hit all their comedic marks and were genuinely funny and at times hilarious.
Audience members who are easily offended shouldn't even consider watching "Wanderlust." The film is filled with vulgar and raunchy humor as well as more naked old people than a Palm Springs steam room.
Audiences looking for a funny and raunchy film need to look no further than "Wanderlust."
"Wanderlust" is rated R for sexual content, graphic nudity, language and drug use. The movie runs for 98 minutes.
3 stars out of 5