Chamber Music Class Hits the High Notes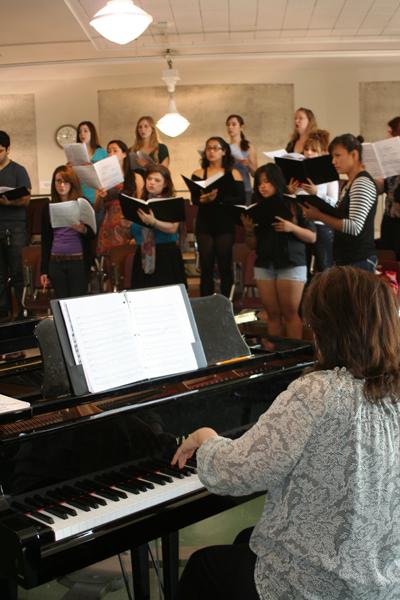 After attending a choral festival performance three years ago, music professor Jayne Campbell had a chat with one of her students about how GCC's choir group compared to the other college groups present at the festival.
"When I first came here to GCC, I observed that this college did not have the same organization of ensembles as we were seeing in the other groups of colleges that attended the festival," said Campbell, who is full-time tenured faculty.
From this observation, Campbell teamed up with two of her students, Kate Gleason and Jessica Kesselring, and they decided to take matters into their own hands by bringing together a group of singers who would volunteer to sing more complicated pieces of music ranging in languages such as Romanian, Russian, German, French, Latin and English.
Due to the college's shrinking budget, there isn't a way to add a new course to the class schedule, but Campbell said she believed students deserved to have this experience as a class. She suggested that the college replace one voice class, which was on Tuesday and Thursday mornings, with the college choir class. Then, they would put the chamber singing course in what had been the college choir slot.
The college did just that.
The new class, listed in the class catalogue as "chamber choral: festival," was created from the determination of Campbell, Gleason and Kesselring; the latter two taking over the administrative and organizational duties by putting together excel worksheets with the volunteer's names and setting up practices outside of class.
"Basically, it sprang from a love of music and thrived on a willingness to devote extra time to the craft," said Gleason, who already has her bachelor's degree. She volunteers and takes the class because she says its fun.
In the beginning, there were about 14 students who got together and volunteered their time to the project; last fall, there were 29.
"We just drove our own rehearsals for awhile until [Campbell] could decide when to fit them into the college choir time," said Kesselring, music major. She has sung on and off since she was younger and plans to transfer to USC.
To join the class, a student must audition and show proficiency at singing. Once they're in the class, they have the option of taking it for one unit or half a unit.
The class session begins with everyone warming up with a series of vocal exercises.
On the third meeting, students practiced "O Schöne Natch," composed by Johannes Brahms in 1877.
After about 20 minutes, the class worked on pronunciation. Each group, from the sopranos, altos, tenors, baritone and bass, has about seven members. They write marks in their music sheets to clarify the pronunciation of words from other languages.
There are times when Campbell takes about half the class outside across the hall where they practice in a separate room. They then rejoin and everyone sings together.
One of the students in the class, Joenhel Cayanan, says he practices about four hours a week outside of class. This is an advanced class with everyone enrolled dedicating themselves to improving their technique.
Campbell said, "On the first day of class, five minutes into the warm up, I just said 'whoa, listen to that sound!'"
Some of the chamber singers are singing in the college choir as well.
An invitational choir festival will be held at Fullerton on March 16. The colleges present include El Camino, Long Beach City College, East LA City College and College of the Canyons, among others. Once there, the choirs sing three or four pieces for one another. There will be one or two judicators who will write comments, but there will not be any awards given.
"It's a great musical experience and it's a chance for everyone to bond and get to know one another," said Campbell. "My favorite part is just watching the students and how much they love doing this."
The chamber singers plan on attending the Fullerton festival, as well the GCC Choir Festival and the Spring Concert.
The creation of this class shows that with hard work and perseverance, many things can come together and work in perfect harmony.
"If you're going to build a program, you just do whatever you need to do to build the program, even if that means putting in more time or volunteering your time," said Campbell. "Now these students are going to have this experience singing a lot of master works that were just too difficult when it was just one big ensemble."
The Glendale College Spring Concert will be held on May 19. It will have the college choir and chamber singers together with added opera scenes.