Glendale College's opening of "The Shape of Things," Neil LaBute's dark insight into the nature of art, beauty and relationships, opened Oct. 19 at the auditorium to a full crowd.
Written in 2001 and produced as a movie in 2003, "The Shape of Things" revolves around the relationship between Adam (portrayed by Manouel Ohaneysan), a socially deprived college student, and Evelyn (played by Amanda Fontoura), a beautiful grad student searching for a way to "change the world" vía art.
As time progresses, the relationship between the two begins to have life-altering changes on Adam and the people closest to him. Those changes end up dissolving the bonds between Adam, his old friend Phillip (played by Ryan Rogers) and previous love interest and Phillip's fiancee Jenny (portrayed by Mitra Pashayi-Marandi) — all for the sake of Evelyn's art.
LaBute's plays aren't known for happy endings or feel-good stories. They're sordid, dark glimpses of the human experience — love, lust, betrayal, obsession over physique — and "The Shape of Things" is no exception. GCC's interpretation of "The Shape of Things" lives up to the expectations of what a LaBute play is supposed to play out.
Story continues below advertisement
Scenes are well acted, with a soft tonality that quickly shifts to one more sinister as Evelyn begins to work her way with Adam. The play begins with Adam meeting Evelyn at work at a local museum in Clarkson, a small college town, as she prepares to spray a penis on a censored museum sculpture. Adam, having little previous success with women, is taken aback when he manages to obtain Evelyn's number and takes her on a date — an event that sets Evelyn's plan to metamorph Adam into art in motion.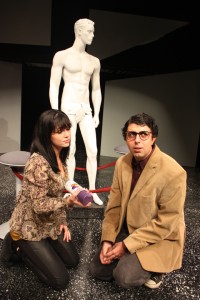 As the play progresses, Evelyn begins to work her way in between Adam's relationships to Phillip and Jenny, who are planning to get married. Arguments arise, betrayals occur and a simple visit to the local coffee shop is laden with suspicion.
The final scenes are what leave viewers murmuring and shuffling in their seats, as Evelyn raises questions on the nature of beauty that we've all asked ourselves at various times and in various relationships. Questions like "Why can't my significant other change those irksome habits of theirs? Why won't that person notice me? Should I try and change this person for the better?" leave the audience with a sense of guilt and longing.
The four actors (yes, it's a four-person play) support each other effectively and bring something unique to each of their roles.
Ohaneysan appears nervous at times, and his acting lacks believability on occasion (particularly when Adam is angry), although that may just add to Adam's nerdy, insecure character.His acting improves somewhat as Adam's transformation from not to hot takes place, although flecks of nervousness can still be seen. However, Ohaneysan does well for his first performance at GCC.
Fontoura's acting fully fleshes Evelyn's character, etching out the saccharine mask in which a cold, calculated face of indifferent artiste lies. Her quips are accentuated by the way she makes facial expressions, rolling her eyes when facing an opposing opinion and making cutesy faces when cajoling Adam into making substantial life changes, such as getting a nose job.
Rogers' performance fits Phillip's overt, anxious persona well, acting like an angst-ridden teenager stuck in the body of a college junior. His over-the-top responses to any real or perceived attacks to his person (mainly coming from Evelyn) make him entertaining and painful to watch, depending on the context of his scenes.
Pashayi-Marandi portrays Jenny as a sweet, down-to-earth woman, insecure about herself and her future. Throughout the play, her insecurity about getting married and about Phillip's characteristics play a pivotal role in her actions and decisions — a role that Pashayi-Marandi fits well.
The scenery is simple, consisting of wooden crates, Art Deco stools, a replica of Michaelangelo's "David," a few props, and a set of walls that convert to a bed with the flip of a board. The walls aren't always the center of attention, as the actors perform on and off stage. Actors perform amid the crowd at times, giving the play a dash of interactivity that makes the audience a part of the cast. The penultimate scene breaks the fourth wall as Evelyn addresses the audience.
Music is limited to small snippets played during scene shifts and, although short, helps carry the pace along. Most of it sounds like something out of an Amon Tobin soundtrack mashed with classics from the Baroque era — perfect for capturing the sense that things can only keep spiraling more and more out of control than the previous scene.
Lighting is used to great effect, as various scenes are set by the patterns of the lights. A park-side chat, a lovemaking scene and a visit to a plastic surgeon are all examples of what visuals the lights and the simple decor provide. A projector sets the backdrop for each scene, shifting from abstract backgrounds such as inkblots and Cubist squares to concrete ones like a courtyard or a doctor's office.
All in all, "The Shape of Things" is an edgy trip into the nature of art and beauty. It's not the best of plays to take a date to, but it's good for those looking to question the nature of their relationships. Adult themes and language are the norm — audience discretion is advised.
"The Shape of Things" will run Nov. 3, 4, and 5 at 8 p.m. and on Nov. 6 at 2 p.m. General admission is $10, student and senior admission is $8. Groups of 10 or more people pay $6 each.